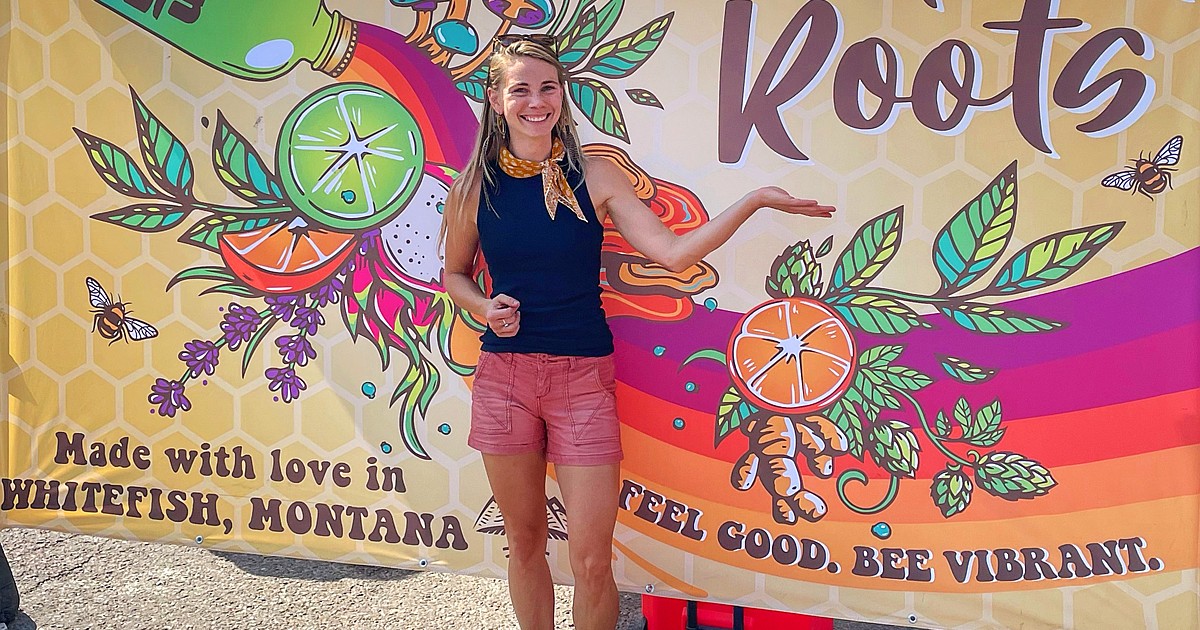 Vibrant Roots: Finding Balance with Mushrooms and Honey
Maybe you have seen the colorful drink in a glass bottle in Whitefish stores and wondered what Jun Tea is and how to pronounce it.
Jun tea is technically kombucha, which is a fermented mushroom tea made from sugar and black tea. However, Jun is made with honey and green tea, so it's full of antioxidants and lower in caffeine.
Everything about Brooke Lynn Dodson's company, Vibrant Roots, focuses on mushrooms and bees, from its logo to the product line, because of their varied health benefits and ecological importance.
Dodson had always had an interest in health and wellness and had been brewing her own kombucha for over 10 years when she was diagnosed with cancer. Due to her family history, Dodson was considered at high risk of her cancer spreading or being terminal.
"I saw four different doctors. They removed some of the cancer, but they wanted me to have a full hysterectomy when I was 24," Dodson said.
Stunned by the prospect of never being able to have children, she dove deeper into her health-based upbringing in hopes of being able to heal herself naturally.
"I can increase my antioxidants, I can balance my body's pH, I can take functional mushrooms that help fight cancer," she said. "None of the doctors knew anything I was talking about, at all."
She researched her condition and discovered that it was a very slow growing cancer. She used the time it gave her to learn more about ways to heal and avoid serious, life-changing surgery. She studied mycology and nutrition online and at Flathead Valley Community College.
"I stopped consuming sugar. I changed everything to honey," she began. "I incorporated a ton of functional mushrooms: reishi, cordyceps, lion's mane, turkey tail, chaga, which I had never incorporated into my diet before. And then I focused on balancing my body's pH with the Hot Shot (a product she creates) and my gut health with the Jun.
Whether it was the nutritional changes Dodson made or the fact that some of the cancer was removed, she was cured 15 months after her diagnosis.
"I don't really know what I did that helped me heal, but I did a mushroom tea, I did the Hot Shot, and I did the jun," Dodson said. "One of those things, maybe a combination of all of them, is what helped me heal, so that's something I wanted to give everyone."
DODSON STARTED brewing kombucha even though his introduction to the fermented, fizzy drink was far from stellar.
"The first time I tried it, I…went back to try to give it back because I was like, 'Something is seriously wrong. It's spoiled; it smells like feet," she recalls.
The store clerk assured her that was how it was supposed to be and over time Dodson found herself wanting and wanting more.
Kombucha and jun are fermented with a SCOBY, a symbiotic culture of bacteria and yeast, which helps give the drinks some of their health benefits, like probiotics and prebiotics. Studies have shown that there are significantly higher concentrations of probiotics in the jun because of the honey which powers the probiotics.
Dodson said jun tea has all the benefits of traditional kombucha and more. Some people who don't like kombucha like jun, she added.
"The Hot Shot is really what I was trying to push," she said, describing the beginnings of her business.
The Vibrant Roots website describes Hot Shot as a hot, potent, super-concentrated elixir made with organic apple cider vinegar, ginger, turmeric, and a type of mushroom that's an incredibly powerful antioxidant to help boost the immune system and balance the body's pH. .
"Jun was a tastier thing for people to drink, but also when everything is balanced in your gut biome, it balances everything else in your body, like your immune system," she said. "It comes from your instinct."
Vibrant Roots officially launched on New Years Day 2020. Within months, the COVID-19 pandemic hit, causing it to introduce "dairy-style delivery" as businesses closed and people had to stay at home.
Just two years ago, Vibrant Roots was producing 20 gallons of June tea each month. Now they produce about 1,300 gallons per month. Dodson products are available throughout the state of Montana, including more than 25 stores and restaurants in Flathead Valley and Jackson, Wyoming.
Often she feels like people see her success and give a trust fund or a generous father credit for making it possible, but Vibrant Roots is a woman-owned and operated business that has been entirely self-funded by Dodson.
"My father is no longer involved," she said. "My mom – I help my mom pay her bills. So there's no secret trust.
Dodson, with Maggi Crotty and Jasmine Bloemeke as their core team, handle all craft activities including production, packaging and until recently when they found a distributor they also made deliveries to more than 80 accounts.
DODSON SAYS growing up on a farm in Joplin, Missouri, instilled a strong work ethic. The second eldest of five children raised by a single mother, Dodson recalls a typical day.
"The only thing I really learned to do was work. Before you get on the school bus, work — like milking the goats, taking care of the chickens," she said. getting off the school bus, there was a whole list of chores to do before mom got home from work."
After college, Dodson taught fourth grade in Great Falls and fell in love with Montana. Even when she was living in Kauai, Hawaii to become a certified birthing doula, she was trying to move back to Montana and she did in 2017 when she moved to Whitefish.
"I've worked at Tupelo, Iron Horse, Earthstar Organic Farm. I worked at the Red Room, I babysat, I kept books, I cleaned houses," Dodson said. "But the bartender at the Northern is really what funded it all. It all came down to the fact that I worked as a bartender until four in the morning. So, I did it completely by myself.
Dodson's diligence and hard work in creating the success of Vibrant Roots means that she is able to offer healing mushroom products to balance people's biomes. And like jun, which rhymes with fun, she enjoys the process along the way.