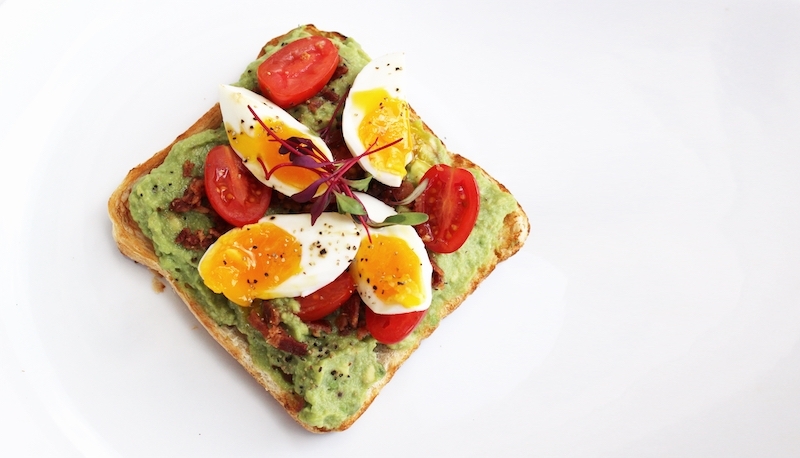 Up Inspired Kitchen in Frisco specializes in coffee, breakfast, lunch
TABLE toast at Up Inspired Kitchen features heirloom cherry tomatoes, homemade avocado spread, bacon, and a boiled egg on sourdough toast. (Karen Chaney/Community Impact Journal)
Before acquiring Up Inspired Kitchen in July with business partner Tim Dungan, Sean Green was a regular customer at the restaurant. Green and his wife, Ashley, own and operate Clean Juice, which is also located in The Shops at Starwood along with Up Inspired Kitchen. He said it was during one of his many visits to the restaurant, while talking with restaurant founder Mike Luther, that an idea began to germinate.
Luther told Green that after owning Up Inspired Kitchen for four years, he and his wife, Rachel "Rae" Luther, decided it was time to move in a different direction.
"We loved the location, loved the concept, and thought we could take it to the next level," Green said.
The Greens have since transformed the menu, the terrace and the interior. Green's sister, Erin Leeds, is the concept chef and created the menu and most of the recipes. Leeds' culinary resume includes a degree from the Culinary Institute of Charleston and Le Cordon Bleu.
One of the concepts of the diverse menu is that it caters to a variety of dietary interests.
"The way our menu is laid out is that for each food category there are three menu items," Green said. "The first listed is the classic version of this category, the second is a healthier option, and the third caters for special dietary needs."
Green referenced burgers as an example of those options: there's a classic beef burger, a turkey burger on grain bun, and a veggie black bean burger.
"Our menu contains foods that nourish — everything on the menu is meant to have a positive nutritional impact on our bodies," Green said. "Even things like a burger can be very nutritious if purchased and prepared correctly."
When ordering at the counter, customers see a list of local produce from places like K Bar K Meats in Pottsboro, La Spiga Bakery in Addison, TX Organic Mushrooms in Denison and more.
"My wife and I have this conversation all the time about why we're here," Green said. "It's a thing of God. We want to educate people about healthier options for their bodies.
Inspired cuisine
5285 North Dallas Parkway, Ste. 400 Frisco
469-579-4197
Hours: Open daily from 7 a.m. to 3 p.m.