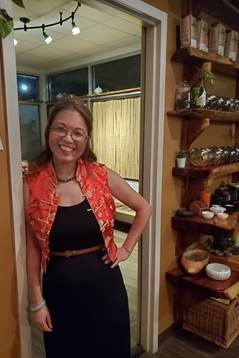 Transformed Hakka Kitchen welcomes a gourmet chef
[ad_1]
By Leigh Cort
The House of Leaf & Bean transformed their dining experience in just 12 days!
Now, Hakka Kitchen, Wen Raiti's dream restaurant, has a gorgeous new vibe, a new menu and a dynamic new chef, Marshall Ziehm.
The Hakka influence comes from the Chinese characters meaning "guest families". Wen and Marshall work together to maintain its philosophy of Chinese plant-based country cooking, as well as the chef's dynamic style of cooking and presentation.
The contemporary ambience invites you to lunch and dinner on comfortable banquettes, tables for two, "social" tables where you can dine with other discerning guests or at the attractive counter where you can taste the steaming aromatic dishes of the restaurant. food.
For the past five years, Wen has proudly preserved its small meditation room for clients and friends who like to take some time out of their busy days to relax in peace. His incredible knowledge of teas and tea ceremonies will continue to inspire people to discover the many teas that Hakka Kitchen loves to pair with meals and also offers on their tea wall.
The new collaboration between Wen and Chef Ziehm is a perfect blend of Wen's philosophy of healthy and healing dishes that are delicious and affordable. She believes that what we eat and the way we prepare our food should be simple, sustainable and beneficial not only for our health but also for our environment. The chef considers Hakka cuisine also as a community to educate and deliver the most beautiful and delicious foods that adhere to the Asian plant-based countryside theme.
All dishes use USDA certified organic ingredients, vegetables from local farmers who practice organic farming, or seafood caught from the wild and not raised on the farm. They do not use preservatives or chemical additives or products that contain them. They pride themselves on serving and delivering healthy, fresh and organic meals in their beautiful restaurant.
One of the unique ingredients offered by Chef Ziehm and Wen is their popular tofu, which they prepare on site, according to traditional Chinese recipes. It's always fresh, organic, and made with the highest quality organic soybeans. The exciting menu finds the tofu surprising in many ways, from crispy tofu bites or steamed buns filled with organic black tofu to mild tofu marinated in soy mushrooms or pan-seared tofu in a spicy red curry sauce. .
Here is an overview of the selections:
Zeng's Cui Pi Doufu (crispy tofu bites with Chinese garlic sauce)
Inspired by a Fujian snack named after Zeng Jinyan, a Fujian hakka girl and famous blogger. Zeng was named one of the 100 People Who Shaped Our World by Time Magazine in 2007.
Southern Baozi Expedition
Steamed buns with black tofu, shiitake mushrooms and organic vegetables. Legend attributes the creation of the baozi to the southern expedition of the famous General Zhuge Liang at the beginning of the 3rd century.
Tender tofu marinated in soybeans with mushrooms, stuffed with roasted garlic, steamed, served with crunchy sautéed vegetables. Black tofu is a house original inspired by the flavors and ingredients of the Hakka heritage.
Or try a few of these menu items:
Popo's Jiaozi: Handmade Dumplings with Organic Tofu, Potatoes, Mushrooms or Shrimp from Mayport
Suns' Award-Winning Vegan Chili (Organic Tofu & Black Beans)
Grandma's Secret Peanut Pancakes: Desserts combining traditional ingredients and modern innovation.
Join Wen Raiti on his 'Journey to the East' and dine on family favorite dishes created by Chef Marshall Ziehm.
For more information on Hakka Kitchen – Under the House of Leaf & Bean brand, visit LoveHakkaKitchen.com.
[ad_2]