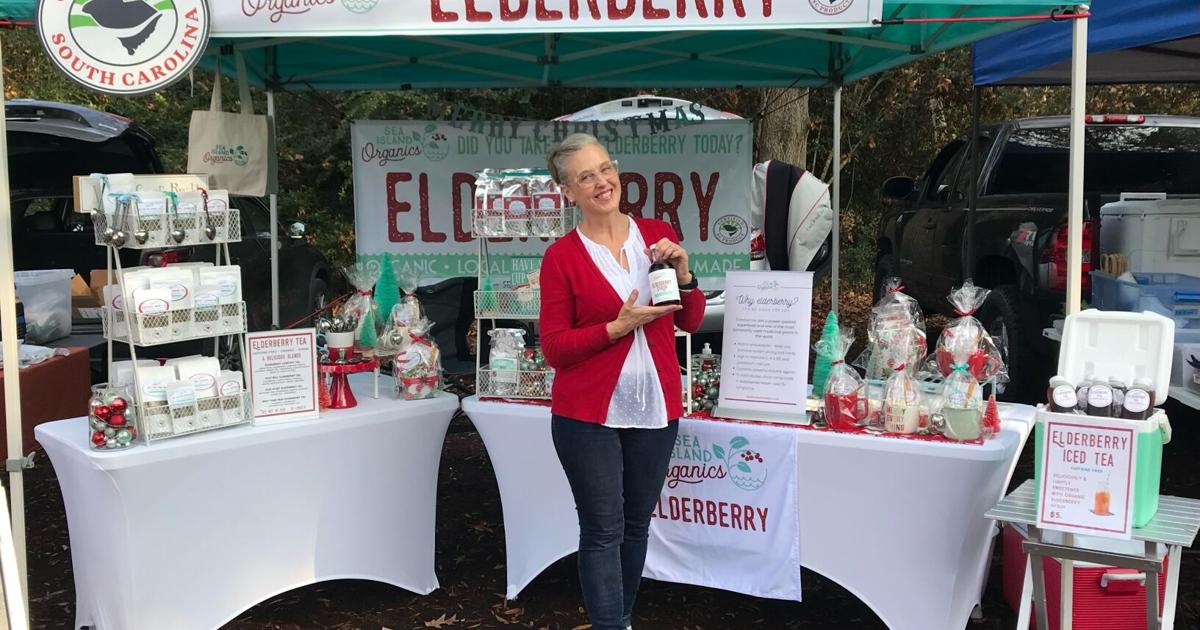 The big advantages of a tiny bay | Community News
A few core beliefs have guided Minde Herbert to create a company that is taking the Lowcountry by storm and giving people a boost to live healthier lives.
Through her business, Sea Island Organics, she advances the wisdom that food can heal; that it matters where food comes from and how it is grown; that it is easier to remain well than to recover; and that when we help each other, we all lift up, which is especially important in business.
Sea Island Organics handcrafts elderberry products in small batches; chief among them are its elderberry syrup and elderberry herbal tea blends. It is the first elderberry company in South Carolina to be designated "SC Certified" by the South Carolina Department of Agriculture; its process is distinguished by a Registration Verification Certificate (RCA). Only one other elderberry company in the state has similar credentials.
Minde Herbert has become the familiar face of the business, bringing her produce to local farmers' markets. On Saturdays, she can be found at the Summerville Farmers Market, dispensing good humor and helpful information on how to use elderberry products. Its products can also be found at Coastal Produce on Cedar Street and Knightsville General Store. Currently, Sea Island Organics offers products in over 40 locations throughout the Lowcountry region in a variety of locations such as specialty farmers markets, grocery stores, bodegas, neighborhood stores and corner markets. . With products found from Awendaw to Edisto, from Folly Beach to Summerville, the company continues to grow across the Lowcountry and in out-of-state markets. See the handy store locator on their website: https://seaislandorganics.com/pages/store-locator
Herbert is on a mission to let his customers know that they are buying a beneficial, nutrient-dense food, not an unregulated drug or supplement. "You use our products as fresh produce, living food," Herbert said. "It doesn't sit on the shelf for two years."
This sets the company apart from other distributors of elderberry products, according to Herbert. Supplements are not regulated in the state of South Carolina. "It's really important to me to make a food – a safe and healthy product for kids and families to eat," Herbert said. Depending on the characteristics and factors surrounding a food, manufacturers and artisans must obtain FDA or DHEC approval to sell to grocery stores or specialty markets.
"We didn't want to be regulated by the FDA like other elderberry syrups are," Herbert said. "We know that food heals and we wanted to create a product that helps families stay healthy. We are regulated by the South Carolina Department of Agriculture. Sea Island Organics products are made in a DHEC-approved kitchen, lab-tested by Clemson University, and are ServSafe® certified, a food safety program accredited by the US Restaurant Association, ANSI, and the Conference for Food Protection.
Sea Island Organics uses six real food ingredients for its products: fresh raw ginger, cloves, raw local honey, Ceylon cinnamon, organic lemon juice, elderberries and artesian water from the Oconee Valley, straight from bedrock without filtering. "You see syrups with 12 or more ingredients, but I believe less is more," Herbert said. "We use a simple and traditional recipe." Their products are produced weekly; they are sold refrigerated and must be kept refrigerated. They will last for four months from the date of creation.
Herbert is critical of companies that use what she calls the "dump and boil" processing method. "Boiling something to death does not protect or increase nutrients. You wouldn't boil your lettuce or kale. We have a very specific cooking and filtering process to retain maximum nutrients.
Other products the company offers include seasonal elderberry ripening spices, elderberry powder that can be used in baking or sprinkled on cereal or yogurt, and make-your-own elderberry syrup kits. -same. "Elderberry for everyone," Herbert said. "It doesn't have to be expensive because it's fashionable. If the products don't fit your budget, buy a kit and make your own.
Herbert is not permitted by law to make health claims for its products. "We know the fruit has health benefits, but I can't tell you that my products improve health. I can tell you that there is evidence-based research on my ingredients that says they are beneficial. No one has done any research on my syrup, but a lot is known about the benefits of elderberries. I can talk about it all day. Loaded with antioxidants, elderberries are known to offer powerful immune system support that may reduce inflammation, decrease stress, help prevent and relieve cold and flu symptoms, and help protect the heart. .
There is nothing new in the use of elderberry syrup. Many centuries ago, people learned to cook and sweeten elderberries into simple syrup to access its health benefits. The practice was revived and is popular today. The sweetening tempers the natural acidity of the elderberries.
When potential customers ask him why they can't just buy elderberries at the grocery store, Herbert explains that they shouldn't be eaten raw. They are pungent and astringent and just don't taste very good. Additionally, they contain a compound that can cause gastrointestinal issues. The seeds, stems, leaves and roots are considered poisonous.
Sea Island Organics sources its elderberries from small, trusted farms that only produce elderberries. The company seeks to source as much as possible from local and regional sources, according to Herbert. "We take care to choose partners who match our integrity and beliefs," she said. "We are looking for growers that are USDA certified organic and practice fair trade. I need to meet the farmer and know the source.
The small purplish-black elderberry is not a difficult culture. It's prolific along the highway; scattered in the ditches. It grows quickly and does well in plenty of sun and moisture. It has no natural pests other than birds, deer or aphids. "The biggest problem is the birds," Herbert said. "They seem to know when they're ripe before we do."
Herbert's background has positioned her well for success with Sea Island Organics. She has a strong background in public relations and branding and studied nutrition at university. Recognizing the importance of nutrition for her children, she decided to pursue opportunities in this field. Driven by the 2008 recession, she started a business to teach people how to live well and affordably organically on a budget. She gave lessons in making elderberry syrup and other usually expensive products so that people could make them themselves. "Eventually people just wanted to buy my syrup," Herbert said. "That's how I became a food producer."
"I discovered that I wanted to help other mothers and families. It's really expensive to be sick, nobody wants that. My goal has always been to help people be well – nutritionally, financially and with business," Herbert said.
Herbert is in the early stages of starting a non-profit organization to help women start and grow their businesses and support each other. His mantra is "We rise together".
She adds, "When a wholesaler is interested in selling my product, I don't charge delivery fees; I have no minimum for sales. We get up together. Share the wealth and we all get rich. We are meant to be on this earth to help each other.