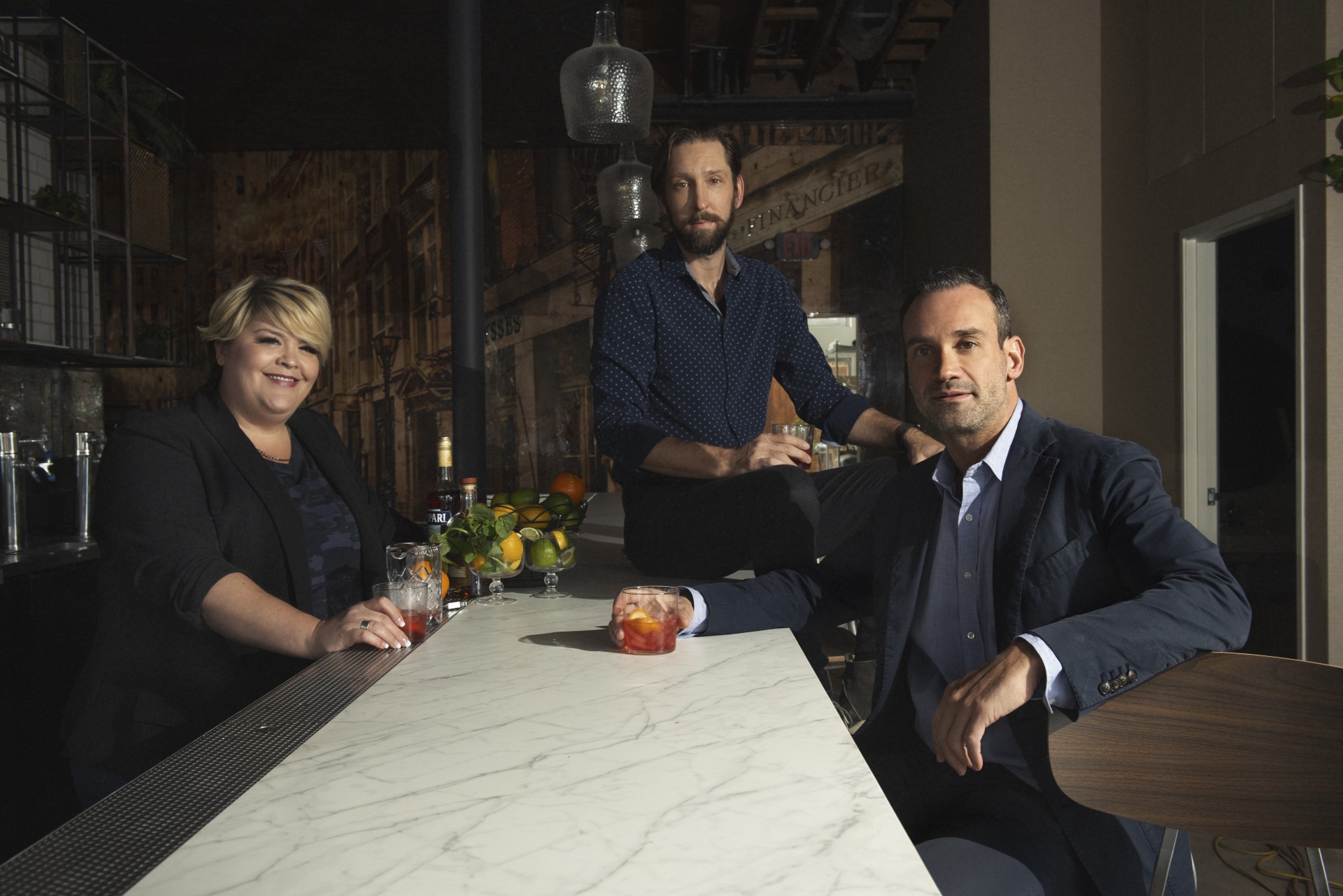 THE ALL DAY DINING, COCKTAIL BAR AND COFFEE SHOP – STONE STREET LA CONCEPT MAKES ITS PLANNED BEGINNING IN WEST HOLLYWOOD
[ad_1]
The hospitality team behind Stone Street New York and Bathtub Gin New York officially opened their new West Coast outpost on Melrose Ave in Los Angeles
Restaurateur and entrepreneur Dave Oz of Stone Street New York and Bathtub Gin New York partners with Joel David Moore and Laura Parkening to launch LA's all-new dining destination, cocktail bar and coffee lounge, now Stone Street LA officially open at Melrose Ave's vibrant Arts District starting September 2021.
The roots of the place go back to the famous roaster Stone Street Coffee Company in Brooklyn. The first Stone Street cafe opened in New York City in 2010 and served as the neighborhood base and functional facade for the famous Bathtub Gin underground bar for over a decade. In Los Angeles, the concept has been extended to a hybrid space that offers locals its signature artisanal coffee, as well as a full menu including breakfast, lunch and dinner, premium cocktails in their beautiful and welcoming atmosphere. bar and weekend brunch on their sprawling garden patio. Staying true to the brand's New York roots while adapting to its new LA home, the menu features delicious food with fun touches paying homage to New York City.
The doors to Stone Street LA are open to everyone, a local java shop, an all-day cafe, and a watering hole with an vibe that fits perfectly into the neighborhood. With its robust entertainment offering, it is a meeting place for creatives in a relaxed yet inspiring and friendly setting, in a place that offers as much atmosphere by day as by night. Evening programming includes a weekly humorous evening (Comedy prohibited on Wednesdays), live music (Thursday evenings), DJ programming and a disco brunch on Sundays.
Business hours: M / F 8 am-3pm | M / Th / Fr 8 am – 11 pm | Sat 9 am – 11 pm | Sun 9 a.m. – 3 p.m.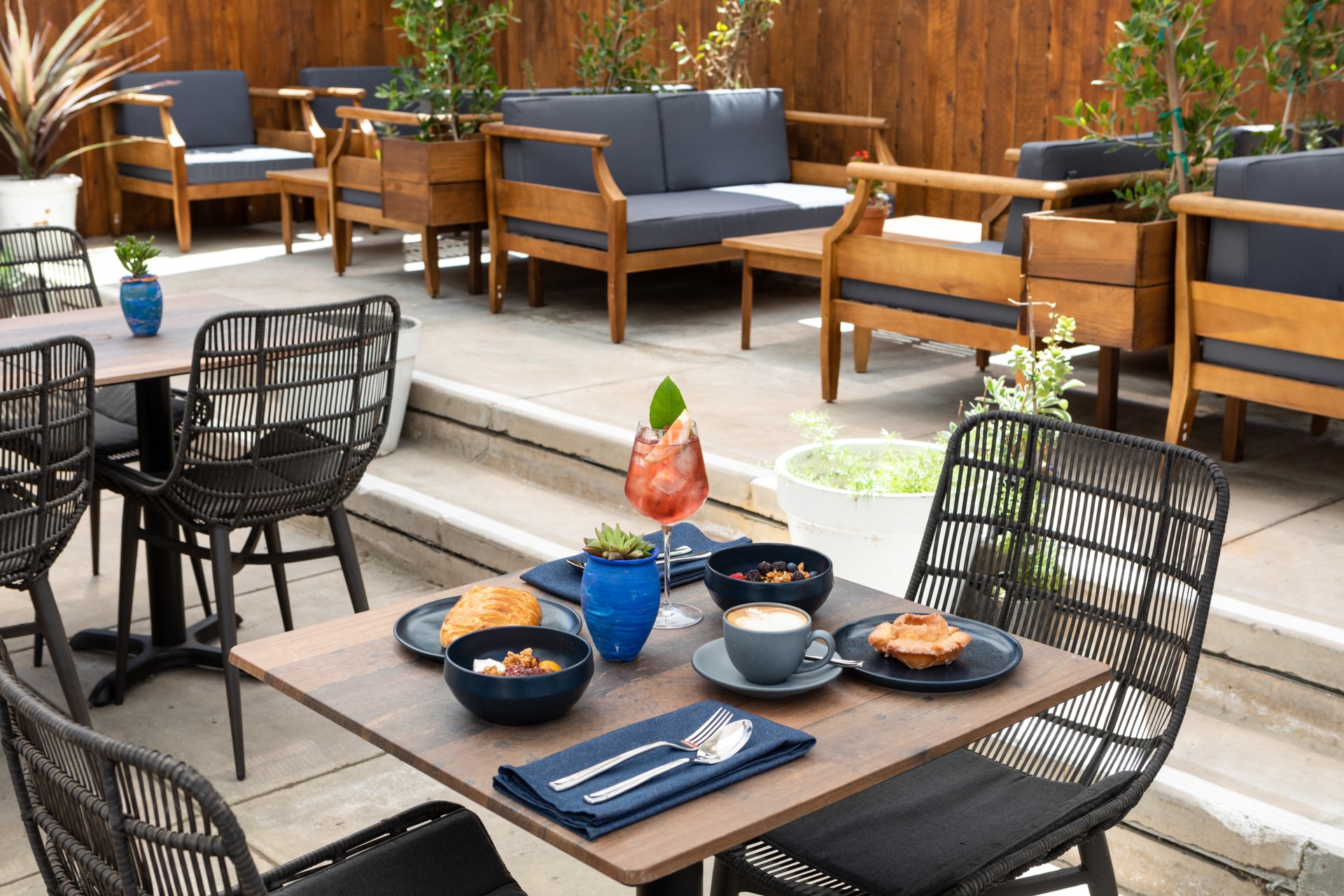 "We are excited to bring the Stone Street name and brand to Los Angeles and create a neighborhood facility to help revive the Melrose area after the pandemic. We pride ourselves on our vibrant vibe and welcoming atmosphere, coupled with great coffee, food, cocktails, music and programming. It's a place for coffee, for cocktails, for the community, a neighborhood cafe and bar where everyone is welcome. Where the food is exceptional and there is something for all customers to enjoy. Where live entertainment is part of the culture, and you can catch the city's best new talent. Where the New York attitude meets the energy of LA and where the best of both worlds come together. – Restaurateur Dave Oz, co-owner
NYC-INSPIRED KITCHEN WITH FLAIR
Created by Chef John Sheffy, the all-day menu features New American-inspired cuisine with a large selection of homemade pastries and New York staples with a creative twist. Classic items are made tasty thanks to a delicate marriage of ingredients. New York favorites such as bagel and lox and egg bacon and cheese on a roll are imbued with a touch of fresh LA, while the local community is embraced by unique dishes such as French toast Challah and Mary's roast chicken. It's a menu with something for everyone, where New York heritage and global inspiration come together. Where classics are made perfect and simple things exceed expectations.
THE COFFEE – THE BEST BEANS OF BROOKLYN
With a legacy linked to the famous roaster Stone Street Coffee Company, excellent coffee is part of the DNA of the place. It all starts with their beans, which are ethically sourced from countries around the world (earning them Organic, Fairtrade and Rainforest Association certifications) and roasted in small batches at the Stone Street Coffee Company in Brooklyn. Here in Los Angeles, they use their various roasts and blends to create an assortment of delicious coffee drinks, suitable for all palettes. For the ultimate taste test, simply try their Knee Buckling Espresso.
COCKTAILS – CLASSIC COCKTAILS WITH A BICOASTAL TOUCH
Created by award-winning beverage consultant Brendan Bartley, Stone Street LA's handcrafted cocktail selection lets you experience classic recipes through unique new flavor pairings. They work extensively behind the scenes to master both balance and flavor, enabling a low waste process and efficient service. On tap, frozen, bottled or by the glass, with standout names like Californication and Harlem Rose, their cocktails encompass the best of both coasts.
"Stone Street LA is committed to providing warm, genuine and unpretentious hospitality by offering unique menus for everything from coffee, cocktails and food. Our skilled baristas honor both classic espresso drinks like lattes and flat whites, as well as new coffee trends like matcha lattes and espresso tonics. Our food menu offers a little something for everyone. With a nod to New York classics like bacon, egg and cheese on a roll, to LA favorites like avocado toast and popular brunch offerings like our prosciutto pie and our Challah French Toast, we aim to surprise and delight. Stone Street's innovative bar program features a mix of frozen, draft and bottled cocktails, demonstrating a molecular approach to locally inspired ingredients in a near zero waste environment. No matter what time of day or night, Stone Street LA is a drop-off spot for everyone, a one-stop-shop with something for everyone to enjoy. – Laura Parkening, co-owner
ENTERTAINMENT – WHERE CREATIVITY MEETS COMMUNITY
A local cafe and bar where you get to know the staff and customers. A neighborhood crossroads with discovery at its heart. Stone Street LA pays homage to classic coffee culture by breaking down barriers between artist and audience, allowing for an authentic type of creativity. Stop for an intimate live music performance. Discover the latest stand-up star. Go wild at Sunday Disco Bunch. This is where life happens and memories are created.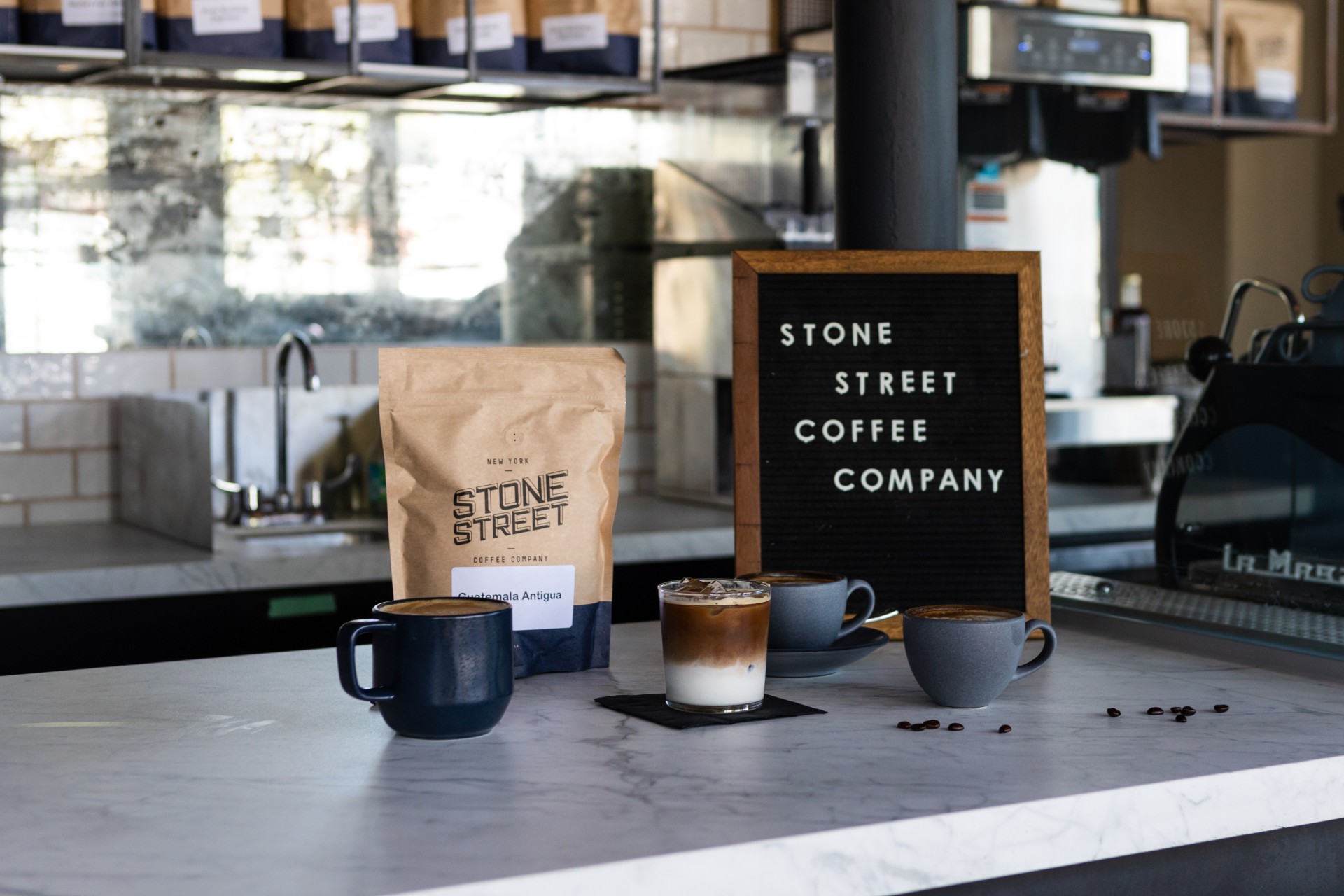 "From the start of our partnership with Dave Oz, we knew Bathtub Gin and Stone Street was a perfect fit for a move out west. Los Angeles is the entertainment capital of the world, and what better way to bring an energetic and authentic East Coast vibe to the market. Our unique venue provides a versatile space that can double as a cafe / bar any day of the week, while still giving us the freedom to host a range of events. From our weekly stand-up to our live music, to Sunday brunch hosted by a DJ, to private events, premieres to birthday parties, we have organized a hybrid space that can be modeled for many different occasions. – Joel David Moore, co-owner
SPACE – BROOKLYN'S INSPIRATION IN A LANDSCAPE OF
Stone Street LA is a bright space that harmoniously merges its New York heritage with the vibrant energy of Los Angeles. Its origins in Brooklyn are celebrated through warehouse features such as unfinished ceilings and a mural depicting the Brooklyn Bridge. Two iconic interior murals pay homage to the iconic New York street that gave it its name. Bar seating allows for a vibrant dining experience, while floor-to-ceiling windows give the space an indoor and outdoor feel. In addition to plenty of street side seating, Stone Street LA offers an expansive 1,500 square foot back patio with lounge seating and lush greenery. From intimate drinks to group events and gatherings, it's a space that infuses versatility.
THE TEAM BEHIND RUE DE PIERRE
Dave oz
Dave Oz is a Brooklyn-born entrepreneur with a professional background in real estate finance. In 2011, he left his lucrative post to pursue his long-standing ambitions in hospitality, opening the first Stone Street Cafe as the functional facade of his underground Bathtub Gin concept. After developing it to become a premier institution in New York City, he teamed up with Joel David Moore and Laura Parkening to bring the concept to Los Angeles. A bon vivant who enjoys giving people memorable experiences and unforgettable moments, Dave plans to open more Stone Street and Bathtub Gin stores across the country and the world.
Joel david moore
Joel David Moore is an accomplished actor, director and screenwriter in film and television. A native of Portland, Oregon, he has 15 years in the entertainment industry, having starred in hits such as Dodgeball and Avatar. After writing and directing several films, he launched a Balcony 9 Productions feature film development fund, with an eye on projects that address ethical and political issues. His innate communication and marketing skills make him a full partner in the development and operations of Stone Street LA.
Laura Parking
With over 24 years in the hospitality industry, Laura Parkening has demonstrated her commitment to providing exceptional dining and consumer experiences through dedicated management and gracious hospitality. Prior to coming to Los Angeles in 2013, she spent 15 years working in fine dining in Seattle, WA, where she developed elite bar programs and managed the staff at several award-winning James Beard restaurants. . Her experience in introducing new concepts to the landscape of our modern food and beverage scene makes her a critical contributor to the vision for Stone Street LA.
For reservations, please visit www.StoneStreetLA.com. Follow Stone Street LA on Instagram @StoneStreetLA_

[ad_2]