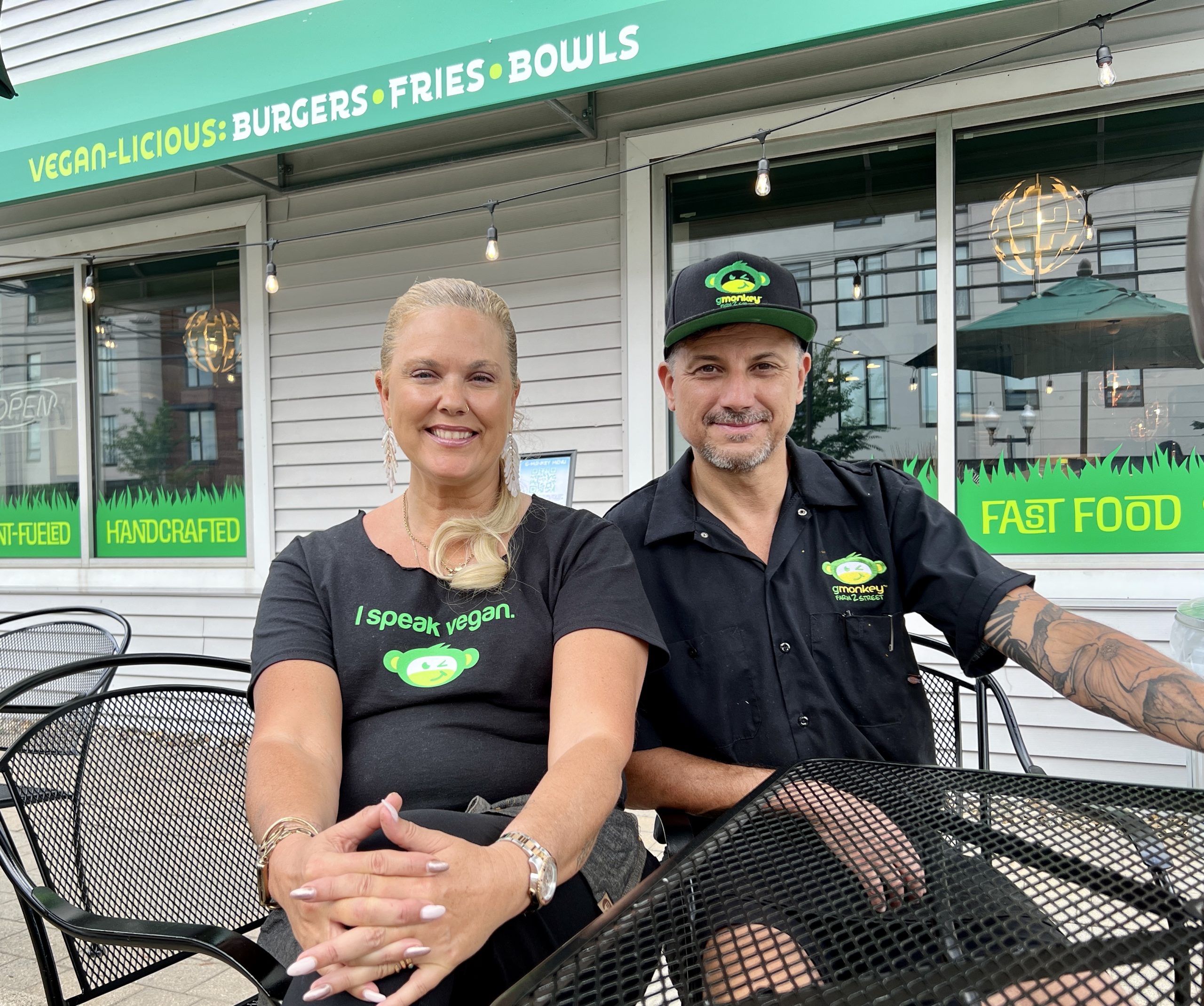 Plant-based, laid-back G-Monkey brand launches in West Hartford – We-Ha
G-Monkey will serve "the food that loves you back," Tuesday through Saturday at 625 New Park Ave., West Hartford, beginning July 7, 2022.
By Ronni Newton
If you think "plant-fueled" and "fast food" don't belong in the same sentence, let alone the same restaurant concept, you haven't yet met Ami Beach and Mark Shadle, the couple behind G-Monkey, the new fast casual restaurant now open at 625 New Park Avenue in West Hartford.
Green is the theme of G-Monkey Plant-Fueled Fast Food's flagship location – the evolution of the famous G-Zen vegan restaurant that Beach and Shadle operated for over a decade in Branford and the G-food truck -Monkey Mobile, like a fresh, modern and avant-garde fast food restaurant.
G-Zen has won countless accolades, even a coveted "can't miss" recommendation in a New York Times review that called it "a vegan retreat for carnivores," but the 60-course menu was top notch. range and complicated. The food truck was also very successful, but the menu was much more limited and New England weather isn't always favorable to the food truck scene.
Although they never closed G-Zen during the COVID-19 pandemic out of necessity, they turned to food that was suitable for takeout, and fast service and contactless payment. It was around this time that Beach and Shadle decided they needed to move on, to move on, to something more manageable. Opening a brick-and-mortar place, with plant-based fast food for the whole family, made sense.
Shadle has honed his expertise as a chef, narrowed down the options, and created a healthy fast food concept that has integrity and can appeal not just to vegans but to everyone.
While Shadle handles most of the cooked food, ably aided by longtime sous chef Mike Richotte, "I'm a raw food chef and a raw food lover," Beach said.
Raw foods include Lemon Lavender Raw Cheesecake, which is not baked at all and does not contain gluten or soy.
Beach also makes the tonics, which are made from 25 different medicinal herbs, either infused or pressed. "These are mocktails with a purpose," she said, "elixirs for life."
Alchemist is said to be an "immortality and metabolism boosting" elixir. "It gives you energy without caffeine and is zero calories," Beach said.
The branding is deliberate – the cute winking monkey, the green accents, the fun slogans. And the use of fully compostable packaging and utensils is also deliberate.
Everything is homemade, the bread, the ketchup, the tonics.
Emphasis is on gluten-free (half to three-quarters of the menu, including most desserts, is gluten-free), allergen-free, and, although not certified, the food is kosher. Gluten-free pizza shells and buns are the only food items that are outsourced – from Dee's, so they are certified gluten-free.
Some menu items were favorites at G-Zen or on the G-Monkey food truck, like the Zen Burger and the Epic Cheeseburger, but many offerings are brand new, like the Colossal Smoked Bacon Cheeseburger and the Brava Burger – inspired by Beach and Shadle's favorite surf spot in Culebra, Puerto Rico. The signature whole-grain bun is not gluten-free, but all burgers can be served "naked" in bowls.
"We eliminated and got the 'best of the best,'" Beach said. "These are cult classics.
Biting into the Brava Burger, it's hard to believe there's no meat involved, and the grilled cheese tastes so "cheesy" it's hard to imagine it doesn't contain dairy products, soy or nuts.
"I'm not trying to imitate the meat, I'm trying to balance the food," Shadle said. It's the right combination of sweet, salty and sour that gives Shadle's creations their intense flavors.
Foods are simple and nutritious.
"We do not offer any 'fake meat' products," Beach said. "We don't use highly processed or pre-made foods," she said – although they do make take-out items like frozen Zen patties that others can keep in their freezer for later enjoyment, and will also offer "cheese". wheels and frozen soups.
"There are no processed soy foods and very little soy on the menu other than tamari," Beach said.
Although you can be vegan and not eat healthy, they use beans, whole grains, vegetables and spices. "Plant fuels mean they come from whole foods," Beach said.
Disco Fries and Sassy, ​​Sweet and Salty Cinnamon Fries are new to the G-Monkey menu – all using sweet potatoes as a base.
Beach and Shadle live on an organic farm in Durham, but while they used to harvest many of their own ingredients, they now mainly support local organic farms.
Burgers, hand dishes, and bowls cost between $12 and $16, and there's a kids' menu for "G-zensters" with a "Grilled G" or Zen Burger.
Service is quick and while everything is easy to take out, there is also seating inside and on the front and side patios.
Pettus Creative's Tofu team in Farmington developed the branding and hopes the West Hartford site will be the flagship site for what will eventually become a franchise.
The monkey logo – which has won design awards – was chosen because it represents a spirit animal, primarily herbivorous, intelligent and exuberant. "It's curious, it winks, it says 'follow me,'" Beach said. Plus, she added, she's always loved the Paul Frank monkeys.
G-Monkey will be in soft-open mode from June 30 to July 2, close for the remainder of the holiday weekend, and then be fully open Tuesday through Saturday, 11 a.m. to 7 p.m., starting July 5. The grand opening will take place scheduled for the fall, probably in September.
For more information, including a full menu and a link to ordering online, visit gmonkeyglobal.comor follow us on social media (@gmonkeyfastfood on Facebook, Instagram and Twitter).
Do you like what you see here? Click here to subscribe to the We-Ha newsletter so you'll always be up to date with what's going on in West Hartford! VSClick the blue button below to become a supporter of We-Ha.com and our efforts to continue producing quality journalism.