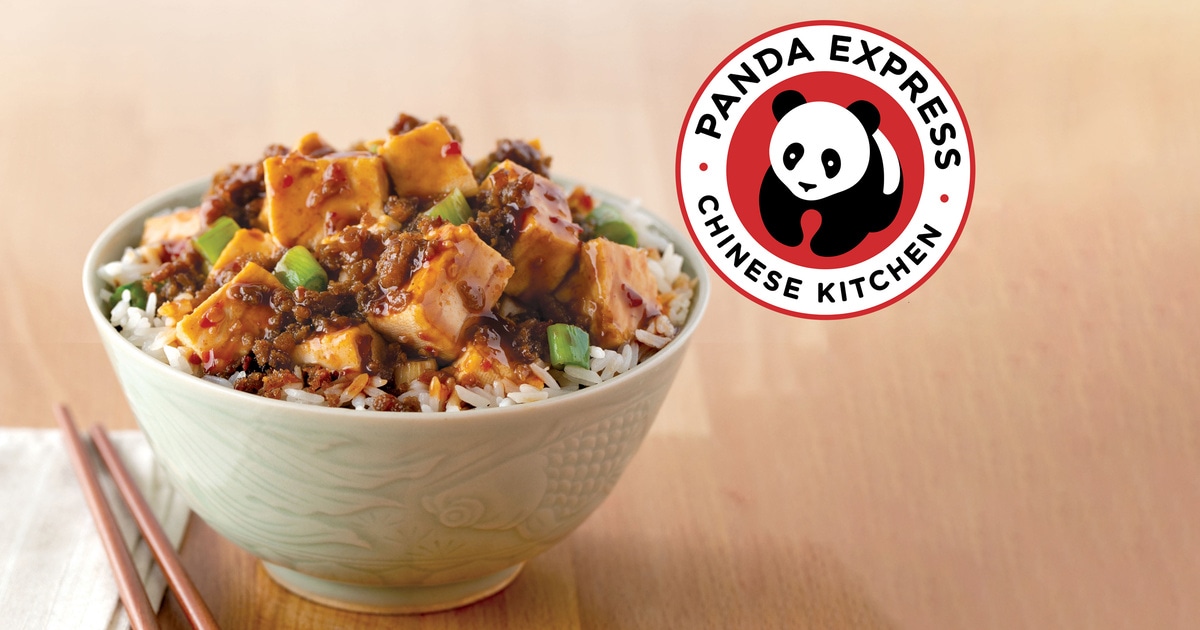 Panda Express extends its partnership beyond meat with two new "heavy" dishes. Here's where to find them.
Through February 23, Panda Express is testing new plant-based meals made with Beyond Beef at its Innovation Kitchen location in Pasadena, California. The first course is Mapo Tofu with Beyond Beef which features plant-based beef from Beyond Meat and firm tofu bites that are wok-stirred in a spicy Sichuan garlic sauce and best served over steamed rice. steam. As Panda's second tofu-based entree after Eggplant Tofu, Mapo Tofu offers a spicier flavor profile. The second dish is the vegetable String Beans with Beyond Beef, an appetizer made with fresh, hand-cut green beans that are wok-cooked with plant-based Beyond Beef in a savory garlic sauce. Panda recommends pairing this dish with Eggplant Tofu and Chow Mein.
"These dishes are traditionally made with ground pork or beef, but now we offer a plant-based version with Beyond Meat's Beyond Beef," said chef Jimmy Wang, executive director of culinary innovation at Panda Express, at VegNews. "Customers can expect the bold Chinese American flavors they know and love from Panda with the added benefits of plant-based meat."
The Pasadena test site serves as a real-time testing environment where Panda Express chefs can experiment with new dishes to meet customers' changing tastes. "We are constantly looking for ways to innovate and bring new offerings to our customers and sometimes use the Innovation Kitchen to test these dishes first," Wang said. "We will first gather information and then determine if it makes sense for a possible future deployment."
Panda does not claim these dishes are vegan as they are prepared on shared equipment with other menu items.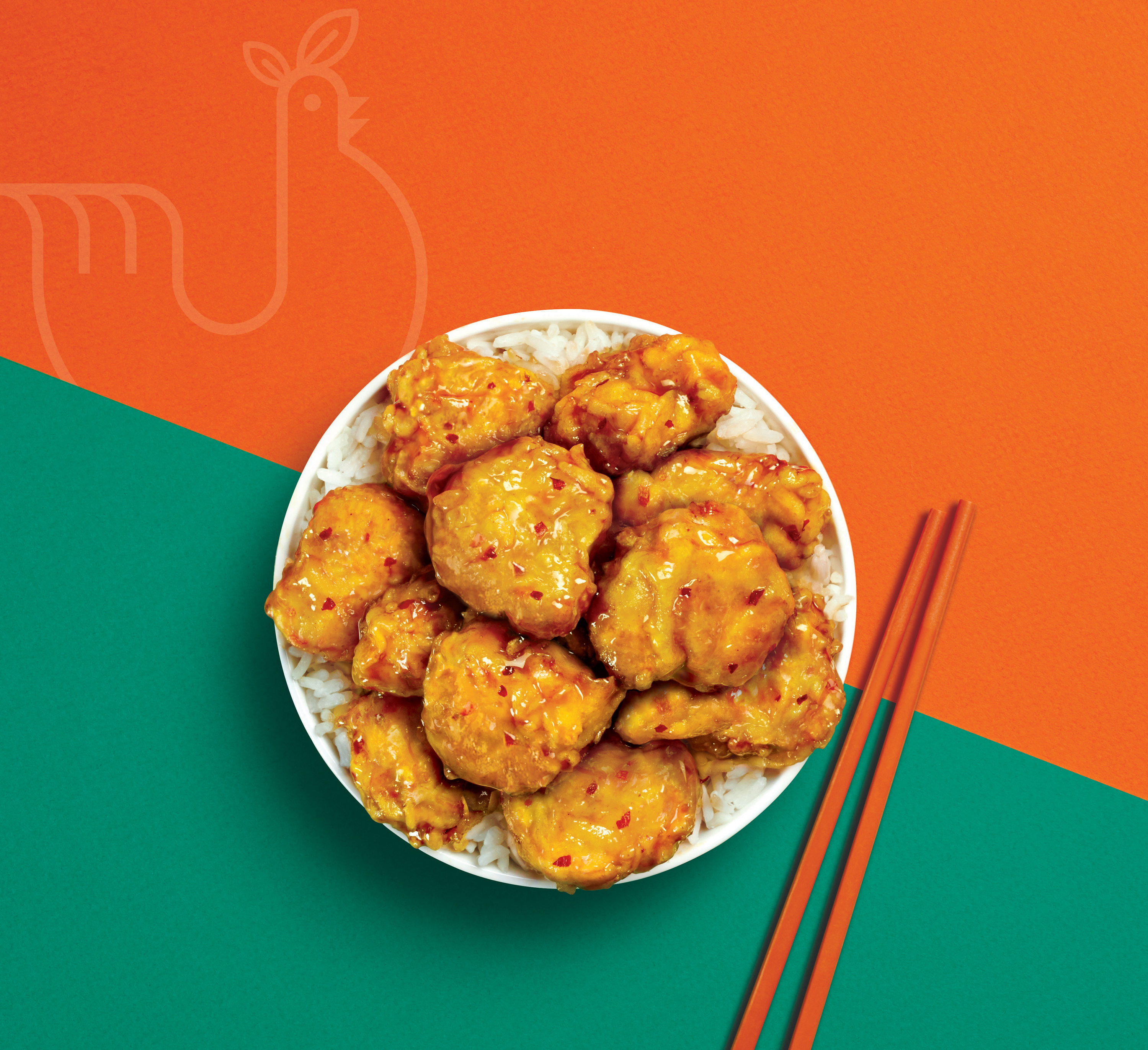 Vegan chicken and beef are coming to Panda Express
Panda Express is testing its new Beyond Beef-centric dishes after a highly successful sold-out launch of Beyond The Original Orange Chicken (BTOOC). The Vegan Orange Chicken was designed to mimic Panda Original Orange Chicken's star menu item, an item that has been on its menu since 1987 and now accounts for a third of its business. The vegetable version is made with chicken developed by Beyond Meat and is coated in the same spicy and tangy sauce as the original but without any animal products.
Panda first tested this vegan version of its most popular dish in select locations in California and New York last July. The BTOCC became an instant hit, with Panda selling over 1,300 pounds of vegan orange chicken in one day and selling out in California test markets within two weeks. After this successful test launch, Panda expanded testing of the BTOOC to 70 sites in 10 states in October with an eye on a nationwide launch.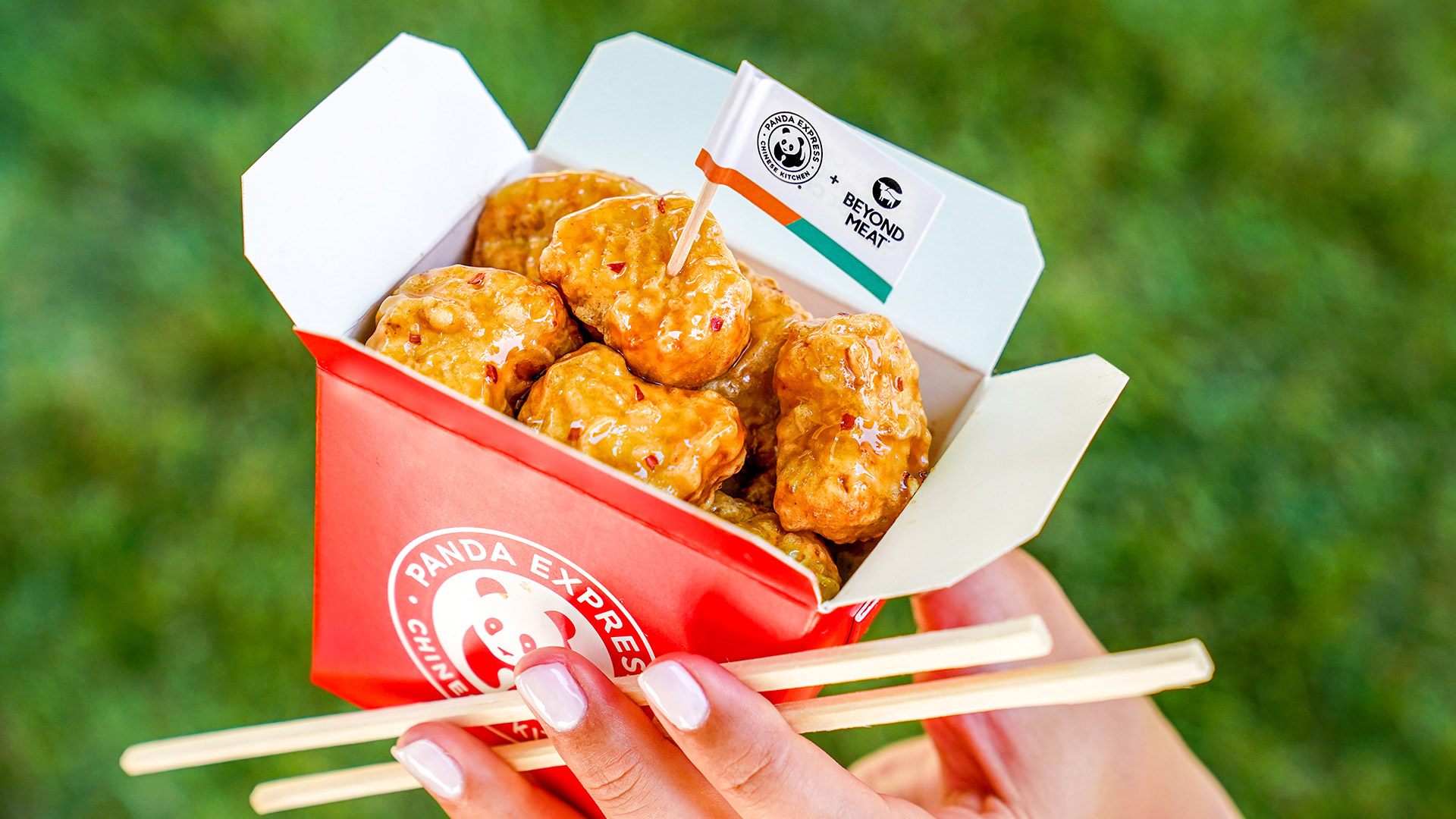 "Beyond the Original Orange Chicken has been one of our most successful regional launches, and we are excited to be working with Beyond Meat to diversify our plant-based offerings with these new dishes incorporating Beyond Beef," Wang said.
Prior to these test launches with Beyond Meat, Panda had few plant-based options, as many of its vegetable dishes were made with chicken broth and animal-based seasonings. However, after working with the Vegan Outreach organization, Panda reformulated some of its items to remove animal-derived ingredients, including its first vegan dish: Eggplant Tofu (available in select locations). Other vegan options at Panda Express are Super Greens mixed vegetables as well as chow mein, white rice and brown rice.
To learn more about Panda Express, read:
How to Make Vegan Orange Chicken Like Panda Express
Panda Express launches its first vegan orange chicken with Beyond Meat
Panda Express sells 1,300 pounds of vegan orange chicken in one day
JUST LAUNCHED! Vote for your favorite vegan products in the 2022 VegNews Veggie Awards.
Vote now
JUST LAUNCHED! Vote for your favorite vegan products in the 2022 VegNews Veggie Awards.
Vote now