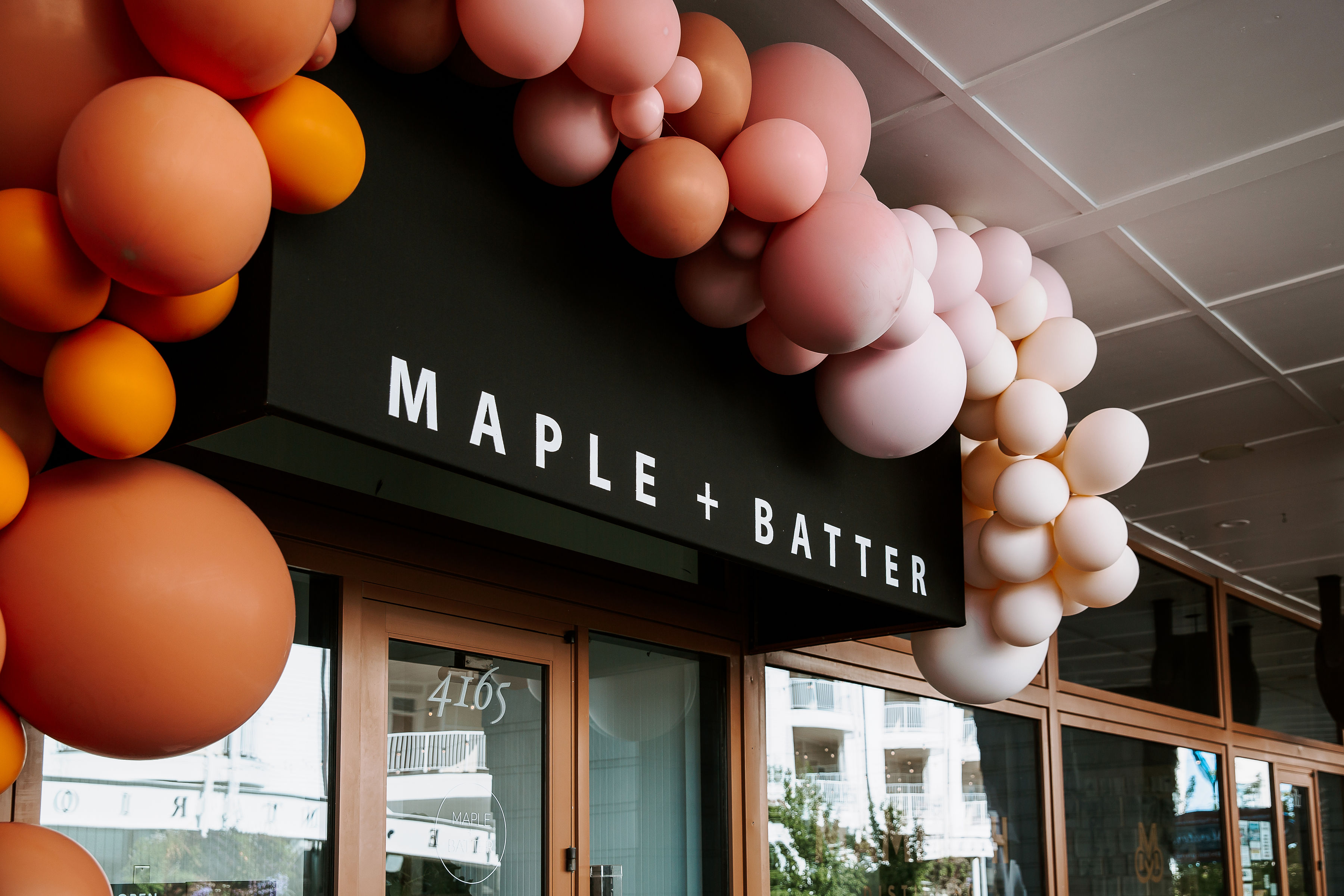 The most important meal of the day just got a whole lot more fun.
By Geri Dietze | February 26, 2022
When The Original Pancake House, a Bay Harbor establishment for more than 20 years, closed due to the state's first pandemic orders, a group of like-minded families and friends stepped in to make their vision of a breakfast and brunch style restaurant.
But how did this team of seven manage a relatively smooth transition, in just 6 months, from the height of the Northern Michigan summer season, to a successful July 2021 opening? Well, first you have to know the Morrisons.
ALL IN THE FAMILY
Twins Philip and Bryant Morrison and their respective wives, Laura and Jamie, bring with them a wide range of skills: the twins are trained in finance, risk management and accounting; Laura's expertise is in event planning and social media; Jamie is a restaurant guru and photographer.
The quartet have been joined in the business by the twins' father, Scot Morrison, who along with family friend Greg Ruvolo provide administrative support. Another friend, Thomas Bayer, from a family that spent decades in the restaurant business, helped set up the kitchen and is in charge of kitchen operations.
"Being such close family and friends, we had the ability and comfort to launch [and] share our strengths, so that we can individually and collectively bring our skills together," Phillip Morrison told Northern Express.
The result of this effort by family and friends is a restaurant that boasts the energetic buzz of a sophisticated urban pop-up, but is grounded in expert-led long-term planning tailored to a business that is meant to last. Simply put: Maple + Batter is here to stay.
The team was helped in their transition by the servers at the Original Pancake House. "We couldn't have done it without them," adds brother Bryant Morrison. "They were instrumental in helping us open as successfully as we did."
A LOOK INSIDE
Batter + Maple occupies a rounded end space in the very distinctive village of Bay Harbor. The focal point of the restaurant, a circular wall with a huge half-moon of double-hung windows, is preceded by an adjoining 4-season porch that lets in lots of natural light. The eye is also drawn to the huge exposed flues and black wicker pendentives above, then below, by the reflective glow of the simulated marble floor (the result of an arduous 5-step process that transformed the tiles classic Pancake House reds into something far fancier.)
Generously spaced handcrafted butcher block tables and modern armchairs, upholstered for comfort, fill the dining area. (It's no small feat, the porch and dining room can seat over 100 patrons.) Substantial support beams, wrapped in faux boxwood greenery, add texture and warmth to the interior. 'space. For winter, lit faux pines of varying heights provide a seasonal backdrop. Beyond that, the open kitchen-style kitchen buzzes with activity but doesn't disrupt the mood. "We wanted a simple, modern look with a lively, inviting vibe," says Phillip.
MORNING GLORY
Chef Aaron Finner has pledged to make Maple + Batter "the best place to brunch." Her first step: using the best ingredients available, sourced locally whenever possible. Plath's, Grain Train, Bill's Farm Market, and Bear Creek Organic Farm typically dominate the menu, but produce from other area farms and markets pops up seasonally.
Finner's Step Two: Keep classics and fan favorites always expertly prepared, then brainstorm with staff to develop interesting and tasty items to keep guests surprised and delighted. Because if breakfast is the most important meal of the day, brunch should be the most fun. To put a new spin on a classic dish, for example: Finner's Bay Harbor Benedict adds roasted tomatoes to the traditional recipe, while Maple Sweet Potato Hash, with onion, red pepper and choice of meat, elevates the expectations.
Griddle choices, all based on the restaurant's official (and delicious) maple batter recipe, include pancakes, French toast, and waffles. Pancakes, their crispy edges lining the circumference of a plate and giving way to a tender center, round out griddle selections. Enjoy them all with real maple syrup, fresh berries, candied pecans or chocolate. (Or mix and match.)
All baked goods are fresh daily. Try the signature maple bacon muffin with a crispy brown sugar top. Take it with a cup of freshly brewed coffee from Leelanau Coffee Company. Or add an egg to increase the carbohydrate to protein ratio. For quiche aficionados, the Mushroom Truffle Quiche, wrapped in its own crust, combines creamy eggs and melted Gruyere cheese with a mixture of wild mushrooms, fresh rosemary strips and a truffle oil finish.
After 11 a.m., choose smash burgers (beef sourced from Halperns' in Kalamazoo), served with the works; a BLTC (the "C" stands for cheddar); or a roasted beet and feta salad with a well-rounded dressing. Weekly specials include ricotta and lemon pancakes, brie omelet, pulled pork benedict or ham and Swiss on French toast with hot maple syrup for dipping. All this, along with many sides and additions, makes the choice difficult. It is probably best to visit regularly.
FROM THE BAR
Start with a carefully curated list of brunch-style bar offerings: try a screwdriver or a Bloody Mary made with gypsy vodka from Petoskey's High Five Spirits; the Bloody Mary mix comes from Mammoth Distillery, a neighbor of Bay Harbor. Chardonnay, sauvignon blanc, rosé and a taxi, as well as a champagne and a sparkling rose make up the wine list. (Special events offer cocktails for the occasion.) Bailey's is on hand to accompany the fresh coffee. (Some beers might be a future addition to the list.)
Find Maple + Batter at 4165 Main Street, Bay Harbor. (231) 753-2122, www.mapleandbatter.com
Beat until
Swingin' party plans for your house or theirs
Maple + Batter is offering more and more events, both on-site at the restaurant digs in Bay Harbor and on the road. Expect themed brunches – inspired by their hugely successful 2021 Jingle Ball Brunch – at the restaurant throughout 2022. The most recent celebration, Galentine's Brunch, served a special menu that included Red Velvet pancakes and cocktails Chambord, and other spring events are in the works. Check the website and follow Maple + Batter on Facebook to stay up to date.
Those who want to throw their own party at Maple + Batter can do that too. Reservations for private parties in the restaurant's four-season patio room are now being accepted. The staff works with the host to plan and execute every detail, from the menu to the decor.
Finally, take-out brunches and breakfasts are now available for small parties; future plans for off-site brunch or breakfast for larger groups are in the works.