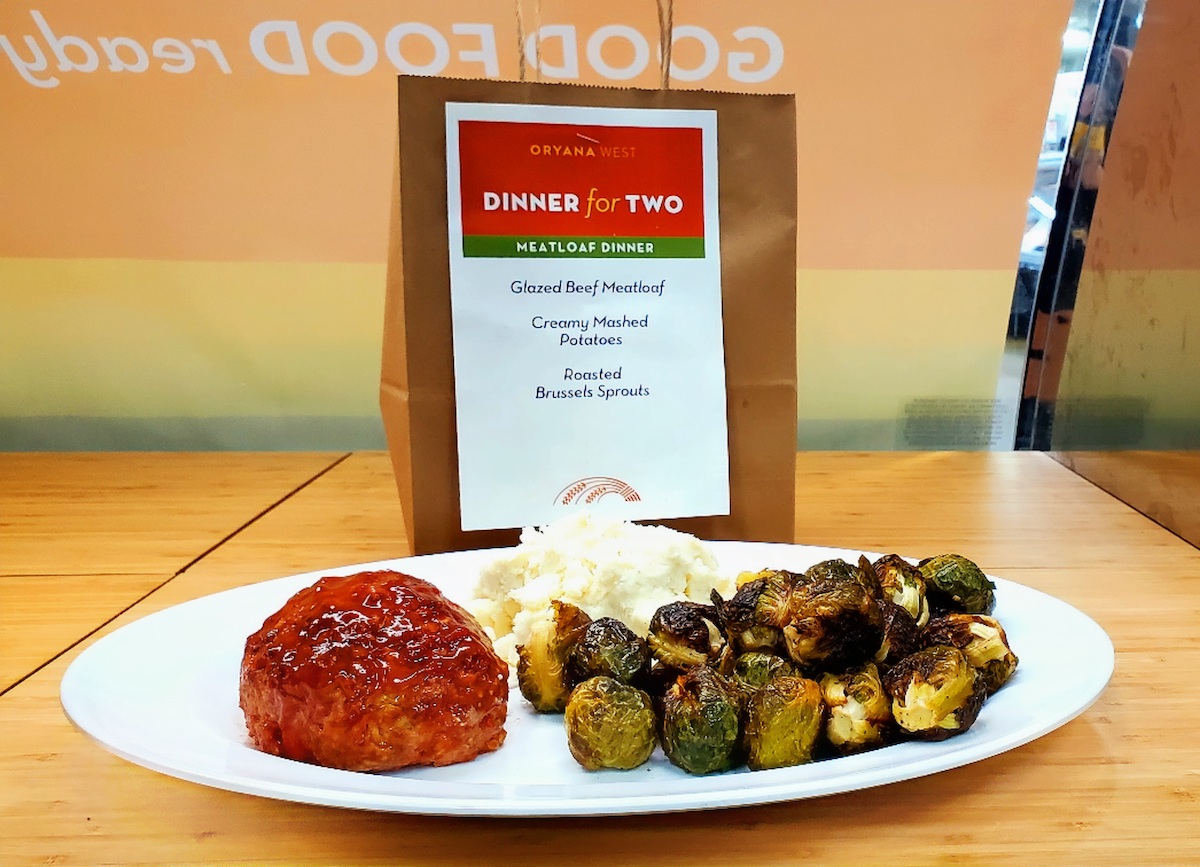 Dinner at your doorstep | Food
Northern Michigan Meal Kits Make Dinnertime Easier
By Anna Faller | August 13, 2022
If you ask us, fast food has a bad reputation. In the locavore paradise that is Northern Michigan, the days of paper-thin burgers and wilted fries in frying oil are over. Here, we present to you the best ready-made dinner dishes with no extra assembly (or oven!) needed and definitely no disappointing fries. Come back!
Mel & Fell: just enough cooks in the kitchen
As the brains (and brawn!) behind Mel & Fell, a local gourmet delivery service, power couple Tim and Melanie Griffith have made feeding others their life's work.
Their story begins in 2003, when their paths crossed while working in the Detroit metro. "We met at the Beverly Hills Grill, where I was a waitress and Tim was a cook," Melanie explains. The two worked together for nearly a decade, eventually overseeing the space as front desk manager and sous chef, respectively. In 2011, they decided it was time for a change.
"As Tim says, man isn't made to look at concrete," says Melanie. So the couple packed up and moved up North – their longtime summer vacation spot and favorite haunt – where they landed in local cuisines, including a handful of area hotspots. , such as Friendly and Trattoria Stella.
But as industry professionals know, hospitality often has a ceiling. "When you've worked for different companies and learned so much, you have no choice but to try your own thing," says Melanie. For Melanie and Tim, that thing was about developing their own cuisine. "I like to garden and I used to [that] and other farm jobs," she says, "so we tried to get into private catering.
From there, Mel & Fell was born. The meal delivery service offers "local dining at home" with fully cooked, heat-and-serve style meals brought right to your porch. Now in their fourth year of business, Mel & Fell is arranging for delivery to Leelanau, Benzie and Grand Traverse counties.
To get in on the drool-worthy action, customers sign up with an email, to which they receive the menu every Friday. "[The menu] is also updated on our website every week, so [guests] You can also send us an e-mail," explains Melanie. Customers have until the end of the day on Sunday to order in preparation for delivery on Wednesday (or Thursday for those in Grand Traverse County), although customers can also choose to pick up their orders.
Unlike most subscription services, Mel & Fell's plates are priced separately, allowing customers to order whenever they want. "We have about 10 to 15 people ordering from us week to week," says Melanie, "but we also have [seasonal] customers who order for two weeks in a row and then we don't hear from them for a year.
In fact, the only "commitment" requested by Mel & Fell is a minimum delivery of $20, since shipping costs for a liter of soup don't make much sense. "We try to keep everything reasonably priced," says Tim. "It has to be worth our time and that person's time."
With an ever-changing range of local recipes, Mel & Fell consciously curate their plates to be as accessible as possible. "We really try to be allergy and diet aware and to be clear [about that] on the menu," says Tim. Thus, their offerings often feature gluten-free and soy-free alternatives, as well as dedicated vegetarian options. Each menu always includes three entrees in addition to a selection of soups and salads (featuring a bowl of cereal in the summer) and at least two desserts, courtesy of Mélanie's pastry genius.
Within this general framework, Tim and Melanie tend to cook whatever they fancy. "We have some go-to flavors that we like to use," says Tim, including nods to their European roots (think Russian and Polish dishes in the winter), as well as South Asian dishes that don't are not as accessible upstate. "These are the major influences in our lives, our region and our cuisine," he says.
As for the ingredients of the moment? It's up to the season to decide. "Our inspiration is very seasonal, because that's how we grew up in restaurants," explains Mélanie. That means lighter summer fare, including a swell of stone fruit when available (peaches and cherries make repeat appearances), as well as salads and berry pies and all the springtime asparagus that our taste buds can probe. In the winter, Tim and Melanie focus on warming stews and hearty starches, not to mention Tim's famous risotto, which is perfect in any weather. "We just try to enjoy the produce when it's fresh," he says.
And it doesn't get any fresher than locally grown. In fact, two-thirds of Mel & Fell's produce is local, with much of it sourced from nearby farms. "We've always loved the local farm stands when we've been there, and they're still so prevalent and popular," Melanie says. As such, the couple are strong supporters of family farms in the area, including The Lively Farm and Lost Lake Farm (in Burdickville and Honor, respectively). They also frequent Second Spring Farm (Cedar), especially for large dining events, as well as Lakeview Hill Farm in Traverse City.
"I like this [using] local produce forces me to constantly rethink the menu," says Tim. "There are so many products here, and what we're trying to do is [encourage people to] think of it in more than one style of food.
Mel & Fell's menu prices range from approximately $15 to $22 per item. They are also available for private catering events. Find Mel & Fell at melandfell.com or call (248) 346-3449.
Oryana Community Co-Op: Dinner for two
Fast food is also getting a makeover at Oryana Community Co-Op. Inspired in large part by the surge in takeout brought on by the pandemic — not to mention a decade of holiday cooking — Oryana's "Dinner for Two" takeout meals are available at West and 10th Street locations.
"There was a demand for something simple," says 10th Street culinary director Danielle Tiedeck. "People were really interested in something that was easy to grasp."
There is nothing simpler than from the fridge to the fork. Conveniently packaged in a to-go bag – in eco-friendly containers, no less – each meal combines a homemade entrée with a selection of vegetarian sides. In keeping with the co-op's high sourcing standards, nearly all ingredients in the kitchen meet local, organic or non-GMO standards. What if you don't see the option you're looking for? You just have to ask.
"They're easy to put together," says West's assistant culinary manager, Kaleb Baughman, "so if someone wants one and we don't have it, we can usually whip one up for them."
Launching in February 2021 at Oryana's 10th Street, the Dinner for Two program includes two fixed-price selections. Guests can choose from the "Fiesta Bag" – it's a local chicken quesadilla served with a trio of toppings (cilantro-lime sour cream, fresh pico de gallo, and a "fiesta" dip made with guacamole) with Garden of Eatin' Blue Corn Fries or the Ethically Sourced Beef Lasagna, served with a light, lemony Caesar salad and topped with lots of Parmesan cheese and house dressing.
The same structure applies to Oryana West, although it has been adapted according to customer demand. "Customers could make their voices heard, and Dinner for Two was a [program] they wanted to stay," says Baughman. "So, we continued, but with our own twist."
Since then, the concept has exploded with a host of take-out options, including the long-awaited re-establishment of Oryana West's salad bar, as well as the implementation of their homemade quiche program.
With four pre-packaged kits, Oryana West rotates its offerings based on season and product availability; meatloaf, however, is a mainstay. A classic script sprinkled with red peppers and drizzled with tangy glaze, this dish is served with garlic roasted Brussels sprouts (a true favorite of Oryana regulars) and buttery Russian mash potatoes.
The rest of the menu is a compilation of the co-op's greatest take-out hits. For an easy, family-friendly choice, Oryana paired their coconut chicken tenders — which they coat in crispy panko and fry — with twice-baked cheddar potatoes and a freshly made garden salad. A dueling lasagna team completes Oryana West's selections; diners can choose between a beef lasagna (with ricotta cheese and marinara) or a hearty spinach version to satisfy vegetarian diets.
"[The program] is a very good thing for the community," says Tiedeck. "[Not only] is it a chance for us to be creative, but food really nourishes us when needed. It's good for our bellies, but also for our hearts and souls.
Dinner for two takeout meals at Oryana West is $21.99 per bag and around $25 at Oryana 10th Street. Both locations also offer a distinct selection of pre-prepared holiday meals, with ingredients and preparations depending on the season. Please contact each location for more information. Find Oryana West at 3587 Marketplace Cir., Traverse City. (231) 486-2491; and Oryana 10th Street at 260 E. Tenth St., Traverse City. (231) 947-0191. oryana.coop