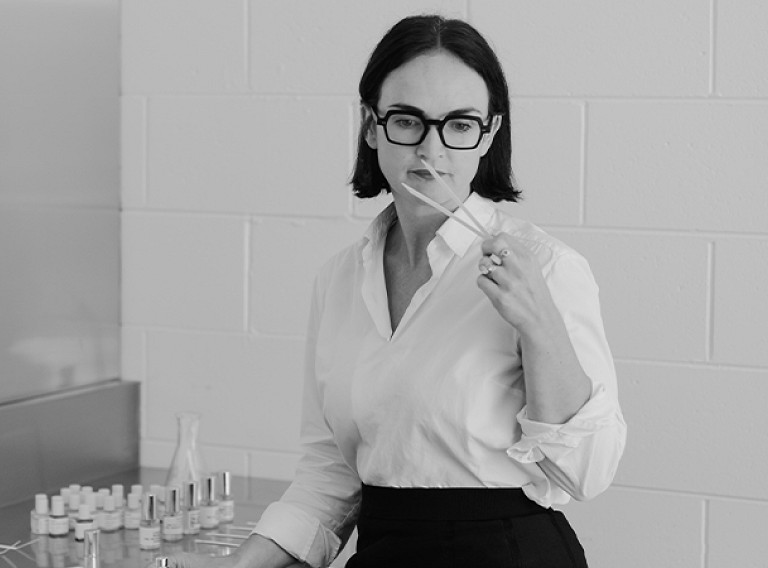 Connect to the beauty of nature with Abel
Natural fragrances have been in high demand and are expected to reach a global market value of $20.8 billion by 2024. But for creatives like Frances Shoemack, founder of Abel, it's not just about creating a product devoid of synthetic fragrance notes, but celebrating the full aromatic profile and benefits that Mother Nature has to offer. From the essential oils to the naturally occurring unique flavor compounds and organic alcohol base in the formulas, every ingredient has been chosen with the utmost discernment.
Based in New Zealand and with products currently sold in 33 countries, the company began in 2011 in Amsterdam, when Shoemack, a winemaker by trade, struggled to find natural fragrances that suited her tastes. Launched in 2013, Abel now offers a curated range of 100% plant-derived, cruelty-free and vegan fragrances, made with ethically sourced ingredients (the majority of which are courtesy of Symrise), packaged in compostable packaging. FSC and Bakelite, sent to customers with low carbon shipping. A portion of the profits are donated to 1% For The Planet and Mary's Meals.
Created in collaboration with master perfumer Isaac Sinclair, the brand's latest releases include Pause, designed to balance mind and body in the face of hormonal changes, and Cyan Nori, a fragrance dedicated to the ocean. Pause is a melting floral offering notes of violet leaf, narcissus, mimosa and hay, all chosen for their stabilizing and calming properties. Cyan Nori offsets the plant-derived musk with fruity notes of tangerine and peach, complemented by a salty scent. While the brand started out with eau de parfums, it recently launched a line of alcohol-free extracts, containing therapeutic-grade essential oils with a 25% concentration.
In a true embodiment of the principle of "kill your darlings", for each new release of the Abel wallet, a product is dropped in an effort to counter excessive consumerism. The company also discloses all ingredients in its formulations, rather than retaining certain ingredients under the "perfume" label, and is currently pushing for broader ingredient disclosure across the fragrance industry, encouraging its customers to take action and to campaign for change.
BeautyMatter sat down with Shoemack to discuss the brand's international DNA, the evolution and dominant myths of natural perfumery, and Abel's crusade for increased transparency and an overhaul of ingredients.
To begin with, what parallels do you draw between winemaking and perfumery?
Both disciplines are really where science meets art and finds harmony in olfactory, which is quite a singular similarity between the two. When it comes to how we make perfume at Abel, we're even more informed by my experience in the wine industry, including how we put ingredients forward. In wine, they say you can't make good wine with bad grapes, and in perfume, it's exactly the same thing. The incredible natural ingredients are what make our fragrances so special, complex and long lasting.
How has spending time between New Zealand and Amsterdam influenced your practice of perfumery?
Abel is lucky to have these two amazing places in his DNA. Growing up in New Zealand surrounded by nature has shaped my own experiences and palette, as well as that of our master perfumer Isaac Sinclair. Similarly, for both of us, later life experiences in European global hubs (Paris and Milan for him, Amsterdam for me) shaped the brand's urban aesthetic.
How would you describe the working partnership with Isaac when it comes to creating perfume?
Extremely collaborative! Normally, Isaac and I sit together in the lab in Paris at the start of perfume development and really solidify the creative concept between the two of us. We continue like this, with very little involvement from the outside world. It's a great working partnership.
What are the challenges of creating an ethical and sustainable supply chain?
If you try to be truly aware, there are no black and white answers. For example, glass is infinitely recyclable, but also heavy (for transport). It's important to weigh the pros and cons and make decisions based on your brand values. I'm always skeptical when I hear brands make sweeping statements about sustainability or make them sound simple – it's not, sustainability is very nuanced. At Abel we combat this by being very open and transparent with our clients so that even if hindsight proves that a decision was not the best, we can show why that decision was made. Basically, we do our best and take our customers with us.
What do you think of the evolution of the natural fragrance category and the rise of clean fragrances?
I'm excited to see a category of natural fragrances starting to emerge. When I launched Abel almost a decade ago, I felt at the time that the fragrance was really behind other sectors in terms of what is often called "clean". It took several more years since then for the category to really start to emerge. . As with any emerging industry, there is some fine-tuning to be made about what is important or what different terms mean. What's great is that consumers are ahead of the game, demanding transparency, getting behind brands doing the right thing, and the industry is aware that things can't go on like they are. have done so, relying on petrochemicals.