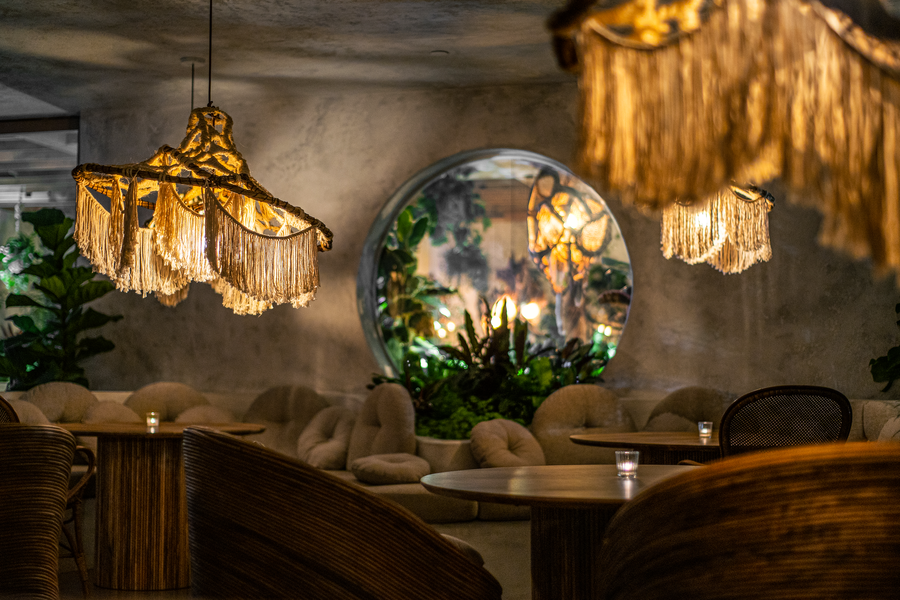 Chef Jordan Kahn opens Meteora restaurant on Melrose Ave in Hollywood
The room is warm thanks to the abundant jungle plants and the luminous lamps wrapped in natural fibres. On each roughly hewn table and dotting the rest of the space are vaso veladoras filled with candles casting radial shadows, Mexican votives that are in other restaurants used to drink mezcal. The benches are cast concrete so they almost look like natural rock formations, as if you've stumbled across a dreamy cave dwelling, and in the center of the restaurant and in the spectacular private dining room there are holes carved into the ceiling, so you can look up and see the stars – or any light fixture that exceeds Melrose's light pollution.
Vespertine is like dining on an abstract spaceship, and dining in Meteora is like eating in the first colony on the jungle planet where the spaceship landed. The experiences are so different and yet both undeniably linked to Kahn's work.
Kahn is renowned for his authorial approach, he is interested in all aspects of the restaurant experience and aesthetics. This includes composing songs for the soundtrack, building the bar itself, working with ceramists for the bowls and designers for the flowing cream-colored dresses the waiters wear. It pays off – it's all one piece, focused and precise in a serious and artistic way.
Of course, the copy of the restaurant is flowery, their objectives noble, the cuisine attractive and sometimes disconcerting; the overwhelming nature of the experience is part of the point. Meteora is an extension of Kahn's argument, which has been going on for years, that a dinner out should be discussed on the same terms as an evening at the theater or a modern art exhibition. He and his team go to incredible lengths to create an all-encompassing experience, as memorable and transporting as a walk through a gallery, as fleeting as dance, an art meant to be observed, considered, and then digested. Some will find the food miraculous, both foreign and familiar in a telling way, and perhaps some will find it a bit too remote. But it's undeniably the kind of meal everyone will want to talk about for a long time to come.
Meteora is now open Wednesday to Sunday, 5:30 p.m. to 11 p.m. Reservations are available up to two weeks in advance via open table.
Ben Mesirow is an Echo Park native who writes for TV, fiction, food and sports. At one time or another, his writings have appeared in The LA Times, Litro, McSweeney's Internet Tendency, Los Angeles Magazine, and etched into dozens of offices at Walter Reed Middle School.