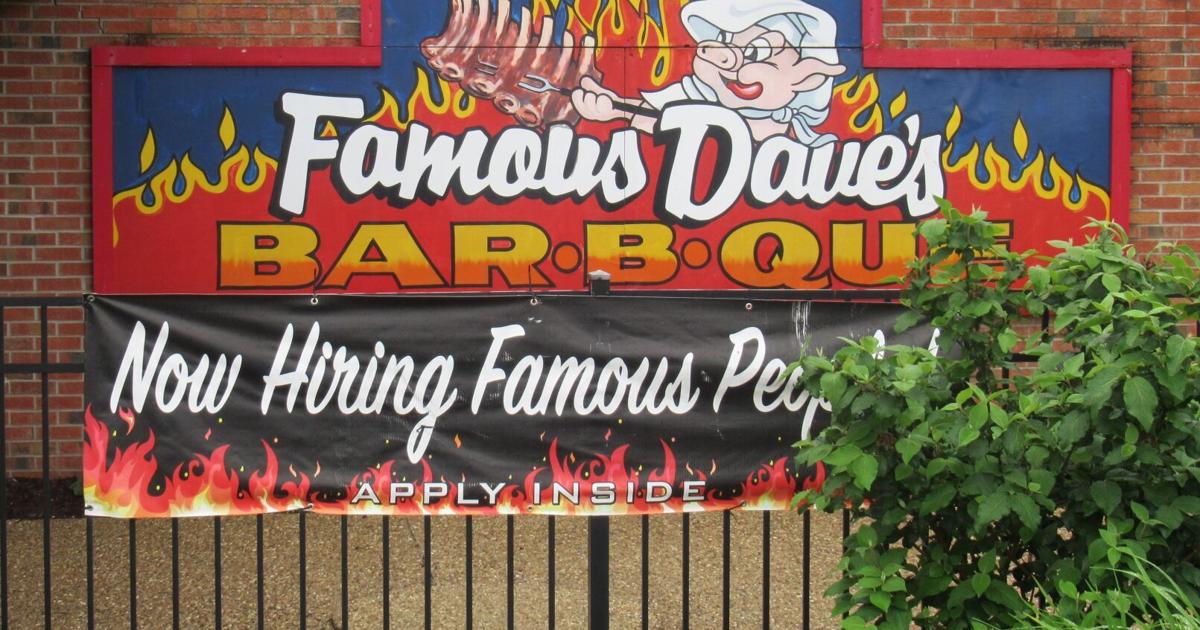 Carius: Inflation puts pressure on menu prices, Bloomington-Normal restaurateurs | Food and cooking
To raise or not to raise menu prices is a topic restaurant owners often bring up when I do interviews for my Bloomington-Normal Restaurant Scene Facebook blog. No, I am not a restaurant guru who can magically help them with an answer, but I am a willing listener with whom they can vent their frustrations with the costs that are rising almost daily in the restaurant industry. . And many of them will say that they have already raised their menu prices once, maybe twice, and are now perhaps considering a third time or more.
These days when you see a new menu in a restaurant, the new menu may not be on the table because it replaces a very worn menu that needed to be replaced, but the new menu may have been needed to reflect price increases.
I often hear about the cost of certain foods having doubled or tripled or, as a restaurant owner recently told me, she had a food cost that had quadrupled. Of course, as consumers, we know that overall restaurant food costs have gone up because most of us have seen our favorite grocery store and our grocery bill go up. And high gas prices and other inflationary increases will likely continue to drive up restaurant costs and our costs.
Carius: Memories of Green Gables, an iconic local landmark
Restaurant owners say they are already operating with a very slim profit margin due to the effect of the pandemic on the restaurant industry over the past two-plus years. And, now, with what appears to be a faster rise in costs, they're struggling to find the menu price point where they can raise their menu prices while still bringing customers in through the front door. What is this price? That is the question.
From Larry's Notebook
• Arby's — The store at 1240 E Empire St., Bloomington, recently closed after 40 years. The franchise rep told me the lease was up and the decision was not to renew. The restaurant was Bloomington Arby's first and BN's second. The first restaurant in this location was a Sandy's Drive-In which opened in 1959. Then I remember it was a Bucky's Drive-In for several years and a White Kitchen before Arby's opened in 1982 .I can't wait to see which restaurant will be next to this location.
• Famous Dave's Bar-B-Que — It recently closed after 22 years. The franchisee rep, Peoria-based Mercedes Restaurants, told me that the Bloomington restaurant hadn't been profitable for some time, so they decided to close. In addition, the lease will expire at the end of this year and they did not plan to renew it. He cited the effect of COVID and staffing issues as major contributing factors to the closure.
Some may recall that Mercedes Restaurants first opened Sonoma Cucina at this location in 1994 and operated it for six years before replacing it with Famous Dave's. By the way, Sonoma Cucina was one of Kay's favorite BN restaurants.
• Teddy's tap — The owner told me that personnel problems and the inflationary economy caused the closure of the LeRoy business.
• Brass Pig Smoke & Alehouse – The restaurant served 22,207 Notorious PIG 16-hour smoked pork butt sandwiches in the two years since it opened on Memorial Day weekend in 2020. Managing partner John Solberg told me that the Business was excellent at the downtown restaurant and growing daily.
• Hacienda Leon — The new fully renovated bar room is beautiful, in my opinion. The owner told me he was only planning to redo the back bar area to make it more convenient for bartenders when he ran into some issues and decided to gut and redo the whole bar. He added that customers now often choose the new bar as their first choice of seating.
• Creamery with cold stones – It recently opened in College Plaza in Normal after moving from The Shoppes to College Hills. It shares the building with Five Guys.
• Indian Grocery and Butcher Bloom Bazaar — It recently opened in the Prospect Center at 503 N. Prospect Road in Bloomington and has what the owners say is the largest Indian fresh meat market in central Illinois, offering goat, lamb, seafood and chicken in the display case. Some halal and organic meats are available.
• Restaurant Destihl — A $450,000 kitchen and bar renovation was recently completed, and the patio was rebuilt last fall at a cost of $175,000. My Opinion: The lighting in the renovated bar/patio is very, very nice, and I would suggest visiting it at dusk or after to see the full effect of the lighting.
A favorite menu item of Larry — The Coney dogs at Dewey's Drive-In in Farmer City. I get mine with mustard, relish and onions.
20 Bloomington-Normal restaurants we want to come back to
Gil's Country Inn
Gil's Country Inn, a longtime family restaurant in Minier, closed in 2013 after the economy took its toll. The restaurant was particularly known for its fried chicken.
by Lancaster
Lancaster's Fine Dining, 513 N. Main St., a downtown Bloomington mainstay for nearly 16 years, closed in August 2014. A struggling economy and the upscale restaurant's location in a neighborhood of bars were factors.
by Bennigan
Bennigan's, which marketed itself as an "Irish American Grill & Tavern", closed its Normal location in July 2008 after the chain filed for bankruptcy. The restaurant, 115 S. Veterans Parkway, was replaced by Wild Berries, which was later closed and razed. Owner Tartan Realty Group of Chicago now plans to build a four-unit development on the site.
Smoked salmon, broth and bagel
Lox, Stock & Bagel closed in May 2004 after 22 years at Normal's College Hills mall, concurrent with the mall's conversion to Shoppes at College Hills.
Zorba
Zorbas, popular for serving Greek cuisine, gyros and breakfast, closed in 2015 after its location at 603 Dale St., Normal, was sold to a developer. The restaurant opened in 1983 around the corner at 707 S. Main St.
big hotel
The historic Grand Hotel, 1201 E. Emerson St., Bloomington, once served as the winter training quarters for a number of circus acts and was converted into a restaurant in 1937. The property was seized by the Pontiac National Bank in 2001, sold in 2002 and demolished a few months later.
Mr. Quick Drive-In
The Mr. Quick restaurant at Clinton and Washington streets opened in January 1966, with burgers starting at 15 cents and coffee for a penny a cup. The restaurant closed in 2001, and the City of Bloomington later purchased the site and razed the building so it could widen the intersection.
Chicago-style pizzeria
Chicago Style Pizzeria, 1500 E. Empire St., Bloomington, closed in 2015 after 22 years in business when owners Abe and Ruth Taha (Abe is pictured above) decided to retire.
Shannon Federal Cafe
Shannon's Federal Cafe, 105 W. Front St., opened in 1997 after its owners took over the historic Federal Cafe in downtown Bloomington, which had closed two years earlier. Shannon's closed in 2004 because the owners also ran Shannon's Five Star restaurant, and the demands of both businesses were too high.
Damon's Grill
Damon's – The Place for Ribs opened in 1995 at 1701 Fort Jesse Road, Normal. The restaurant closed in 2006 after a decline in business; the site is now a CVS pharmacy.
by Ned Kelly
The Australian-themed Ned Kelly's Steakhouse opened in May 1992 in Bob Knapp's former location in the Brandtville Center (now known as Morrissey Crossing). It closed in August 2007 after the company's four locations in central Illinois were unable to compete with larger chains.
from Arnie
Arnie's was a popular restaurant in Twin City for 25 years. Located at Bloomington Airport Terminal, it closed in 2003, shortly after the Central Illinois Regional Airport moved to its current location about a mile east. A later restaurant, Arnie's Etc., operated for about a year in the old terminal, until it closed in 2005.
Diamond Dave
Diamond Dave's, a mainstay of the former College Hills mall for 21 years, closed in June 2004 alongside the gutting of the mall to create what is now the Shoppes at College Hills.
jerry grid
Jerry's Grille opened in 1999 in Bloomington's Brandtville Mall, taking over the location used by another restaurant, Henry Wellington. It closed in 2005 and then became Goodfellas, which also closed.
golden west
After 33 years in the heart of Normal, Golden West closed in 2002, after the owners received a surprise offer for the site and decided it was time to sell. The building, 712 S, Kingsley St., was later sold to Tartan Realty and demolished in 2003.
Ming-Restaurant
After eight years at 407 N. Hershey Road, Bloomington, Ming's closed in 2012. The restaurant was facing foreclosure at the time.
Central Station
The former Central Station restaurant in downtown Bloomington, once a fire station, is now home to Epiphany Farms Restaurant and Anju Above.
Chevrolet FreshMex
Chevys Fresh Mex, 704 S. Eldorado Road, Bloomington, closed in 2011 after being open for nearly nine years. The site has also housed several other restaurants, including House of Hunan, Shakey's Pizza, and Butterfields.
The Caboose
The Caboose, a historic Bloomington restaurant at 608 W. Seminary St., closed without fanfare in February 2012. The restaurant, with multiple owners and names including Chuck's Caboose and Barney's Caboose, had been a West Side staple for more than 60 years.
by Delgado
Delgado's, a popular Mexican restaurant at 201 Landmark Drive, Normal, closed in May 2005 after 24 years in business. This is now the location of Los Potrillos.
Carius, of Bloomington, is a former food program and plan review supervisor for the McLean County Health Department. His Facebook blog, Bloomington-Normal Restaurant Scene, has 34,000 followers.