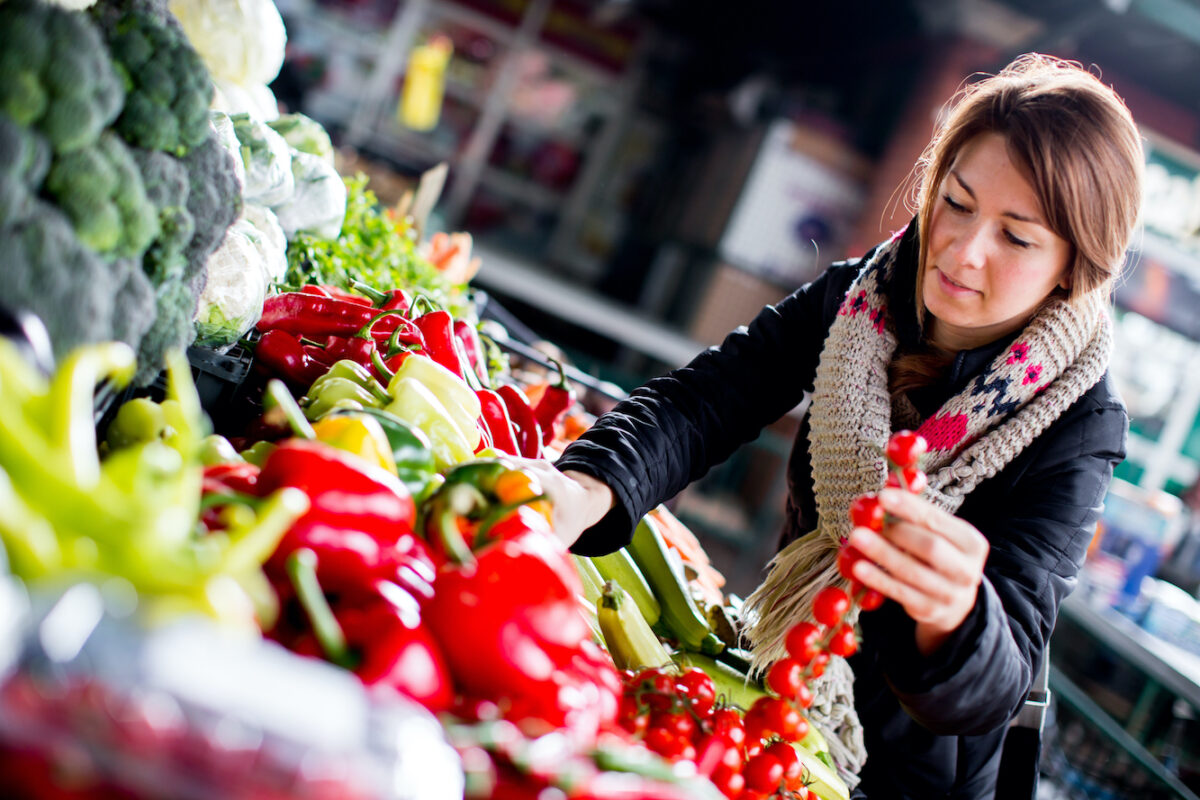 12 ways to save money on organic food
Buying organic food isn't just for the health-obsessed few. Eight out of ten households buy organic products at least occasionally and the organic sector continues to grow.
Buying organic items is also easier than before, as they are now available at nearly 20,000 health food stores and nearly three out of four conventional grocery stores, according to the USDA.
However, buyers face a challenge in 2022 as inflation and supply chain issues drive up the price of fuel and food. Yet, despite these growing expenses, we are seeing a dramatic increase in organic food sales.
Organic food sales growth
Fueled by the desire to boost immunity and keep their families healthy, consumers have embraced the practice of using food as medicine like never before. U.S. organic sales hit new highs in 2020, rising a record 12.4% — to $61.9 billion — according to Nielsen findings released by the Organic Trade Association in 2021.
"A good healthy diet has never been more important and consumers are increasingly looking for the organic label. Organic shopping has skyrocketed as shoppers choose high-quality organic produce to feed and nurture their families," said Laura Batcha, CEO and Executive Director of the Organic Trade Association.
Organic food and beverage sales grew 6% to $50.75 billion in 2021, not the record growth seen in 2020, but higher growth than before the COVID pandemic -19, according to information presented at Natural Products Expo West 2022. Industry analysts say the pandemic has changed consumer behavior: more new health-conscious customers bought organic food in 2020 and continued to buy it in 2021, and organic food sales growth influenced by COVID is expected to continue in the coming years.
Organic 101
For products to display the USDA Organic seal, 95-100% of their ingredients must be organic. Organic foods must be produced without the use of any of the following: synthetic chemical pesticides and fertilizers; genetically modified organisms (GMOs); sewage sludge; irradiation; industrial solvents; and synthetic food additives.
In general, organic foods are 10-20% more expensive than conventionally grown foods, but buyers will often pay a higher price out of a desire to protect their health, minimize exposure to synthetic pesticides, and help protect the environment. Some buyers are also aware of research that indicates organic crops, on average, have higher concentrations of antioxidants, lower levels of cadmium, a toxic heavy metal, and much lower levels of pesticides than conventional crops.
Ways to pay less for organic food
To cut costs when buying organic food, try these money-saving strategies. I compiled the following suggestions for my 2014 book "Going Against GMOs", and have since updated and expanded them.
Pay attention to in-store sales. In supermarkets and large natural food stores, there can be up to 1,000 items on sale at any one time, and many of them are organic.
Sign up for store newsletters with deals of the week. You can also look them up in your local newspaper. Plan your shopping around the organic sale items you want and need the most, then create meals around those items.
Capitalize on incredible one-day sales. If you get email or text alerts about these great deals and head to the store on sale day, you can save big.
Join a customer loyalty program with your favorite store. A common feature of these programs is that they offer member-only discounts on different organic products weekly or monthly.
Subscribe to websites that offer organic coupons. There are many to choose from. A few include PassionForSavings.com, InspiringSavings.com and AllNaturalSavings.com.
Follow the websites or social media pages of your favorite organic food companies. They sometimes offer special coupons or promotions in publications or banner ads.
Comparator-shop to find the best deals on organic items. Within the same city or district, the prices of organic products can vary considerably. As you shop around, you'll get a good idea of ​​which foods are cheaper in certain stores.
Buy your most consumed products at checkout. Some stores offer a cash discount, and sometimes you can use coupons or sale prices on top of that discount.
Choose seasonal products as much as possible. When it's in season, it's usually much cheaper.
Use assistance programs if you have a fixed income. It is important to know that many farmers markets accept Supplemental Nutrition Assistance Program (SNAP)/EBT (formerly food stamps); Women, Infants and Children (WIC) coupons; and vouchers from the Farmers Market Nutrition Program for the Elderly (SFMNP) or other state-run assistance program vouchers. Find out which programs you qualify for and which farmers' markets in your area accept. Then use the coupons from these programs to buy products from local growers who don't use synthetic pesticides.
Look for organic produce at dollar stores, outlet stores, and local food banks. In recent years, as part of farmer and organic industry programs to make organic foods more readily available to low- and middle-income families, concerted efforts have been made to place more of these foods in discount stores and food banks. Grocery stores will also send nearly expired foods to liquidation stores, where you can get them at a great discount.
Develop your own. Start a small organic vegetable garden if you can. If you only have a windowsill, try growing organic potted herbs. This is an effective cost-cutting measure to take, as these products tend to be overpriced in stores. If you grow too much of certain foods, trade with your neighbors for more variety.
This article is adapted from information in "Going Against GMOs" by Melissa Diane Smith.
Melissa Diane Smith is a holistic nutrition consultant and journalist who has written on health topics for over 25 years. She is the author of several books on nutrition, including "Syndrome X", "Going against the grain", "Gluten-free all year round" and "Going against GMOs".
Sources
1 Organic Agriculture: Organic Market Summary and Trends. USDA Economic Research Service. https://www.ers.usda.gov/topics/natural-resources-environment/organic-agriculture/organic-market-summary-and-trends/.
2 Organic Purchasing: State-by-state data shows an increase in organic purchasing across the U.S. Organic Trade Association (OTA). https://ota.com/market-analysis/organic-purchasing.
3 Cox, Carolina. Beyond Pesticides online pre-conference workshop, May 24, 2021.
4 Organic Farming. USDA Economic Research Service. Op cit.
5 Keynote address on the state of the natural and the organic. Natural Products Expo West online convention, May 25, 2021.
6 U.S. Organic Sales Reach New High of Nearly $62 Billion in 2020. Organic Trade Association (OTA) News Release, May 25, 2021. https://ota.com/news /press-releases/21755.
7 Same.
8 Keynote address on the state of the natural and the organic. Natural Products Expo West 2022. March 9, 2022.
9 McEvoy, Miles. Understanding the USDA Organic Label. United States Department of Agriculture, August 2, 2021. https://www.usda.gov/media/blog/2016/07/22/understanding-usda-organic-label.
10 Campbell, Jeff/TheGroceryStoreGuy.com. What is the cost difference between organic and non-organic food? https://thegrocerystoreguy.com/what-is-the-cost-difference-between-organic-non-organic-food/.
11 Gundala RR, Singh A. What motivates consumers to buy organic food? Results of an empirical study in the United States. PLOS One, September 10, 2021. https://journals.plos.org/plosone/article?id=10.1371/journal.pone.0257288.
12 Baranski M. Srednicka-Tober D, Volakakis N, et al. Higher antioxidant and lower cadmium concentrations and lower incidence of pesticide residues in organic crops: a systematic review of the literature and meta-analyses. The British Journal of Nutrition, 14 September 2014; 112(5): 794-811. https://www.ncbi.nlm.nih.gov/pmc/articles/PMC4141693/.
13 USDA. Farmers Markets Accepting SNAP Benefits, 02/3/22. https://www.fns.usda.gov/snap/farmers-markets-accepting-snap-benefits.
14 USDA WIC Works Resource System. Farmers markets. https://wicworks.fns.usda.gov/resources/farmers-markets.
$15. Seniors Farmers Market Nutrition Program Fact Sheet. 06/29/21. https://www.fns.usda.gov/sfmnp/fact-sheet-2021.
16 Personal interview with Anne Loftfield, local, organic and regenerative farmer at High Energy Agriculture, a long-time Farmers Market vendor, in Tucson, Arizona, March 31, 2022.
17 JEDI Collaborative Education: The Call for Systemic Change in the Natural Products Industry. Natural Products Expo West 2022. March 9, 2022.